Laboratories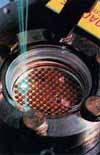 The Bureau of Geology houses state-of-the-art laboratory facilities that serve the analytical needs of the public and support ongoing research efforts of the entire university community.
Sample Testing & Evaluation
As a public service, and on a limited basis, we do routine identification of rock samples collected in New Mexico and submitted to our laboratories. Each sample is evaluated and major minerals or elements are noted. From the results our mineralogists and geologists can tell if the sample has economic possibilities.
If the sample has possible economic worth, a quantitative analysis by a commercial laboratory may be recommended. This analysis will indicate the amount of a mineral or element present in the sample. We will also analyze quantitatively rocks or ores, on a limited basis, for the elements gold and silver. A citizen of New Mexico may submit three samples per year to be analyzed at cost.
Information on sampling and analyses, including a directory of commercial labs, is available on request.
Lab Descriptions
The analytical chemistry laboratory, established in the early 1960s, focuses primarily on inorganic water quality and environmental analyses.  The primary instruments in use include an inductively coupled plasma-mass spectrometer, an inductively coupled plasma-optical emission spectrometer, and an ion chromatograph. Routine water analyses include trace metals, such as arsenic and uranium, and major anions and cations, such as chloride, sulfate and sodium.  Please contact the lab for more information about sample analysis and pricing.
We have facilities to characterize the mineralogy and ceramic properties of clay materials. Testing capabilities include particle-size distribution analyses to measure the amounts of clay, silt and coarser material present; X-ray diffraction analyses to determine the mineralogy of both bulk-rock samples and clay-size material; and leaching tests to measure the amount of insoluble material present.
A Cameca SX-100 electron microprobe came online at the Bureau of Geology in 1996. Unlike bulk chemistry techniques, the electron microprobe is well suited to non-destructive quantitative chemical analysis of very small spots (as small as one micron) on a sample surface. The electron microprobe can also produce fine-scale chemical maps of polished samples, and three-dimensional, high-magnification Scanning Electron Microscope (SEM) images of rough sample surfaces.

The metallurgy laboratory provides bench scale and pilot-plant scale ore-testing capabilities to aid the minerals industry of the state. This facility has been particularly instrumental in initial evaluation of small prospects and new discoveries, as well as in conducting preliminary test work for process modifications in operating mills. The metallurgy laboratory also provides training for mining and metallurgy students, and it is available to other faculty and staff at New Mexico Tech for sample preparation and minerals-related research.

The New Mexico Geochronology Research Laboratory, established in 1993, utilizes a variation of the K-Ar (40Ar/39Ar) dating method to determine highly precise ages for rocks and minerals. Rock ages are important to geologic mapping efforts in helping to correlate mappable rock units, and in determining the timing of folding and/or faulting.

The Perlite Lab, established in 1985, is the main perlite testing facility for North America. The lab has a 4" x 40" vertical expansion furnace that is used for basic perlite testing, including perlite density, yield, sinkers, brightness, and others.
Our soils laboratory is equipped to conduct a variety of mechanical and hydraulic tests on soil, sediment, and in some cases rock samples.
Our X-ray facility provides chemical, mineralogical, and crystallographic analyses in support of the research, educational, and public-service programs of the Bureau of Geology and New Mexico Tech. It also serves agencies and industries of New Mexico by providing analyses that cannot be obtained through commercial sources.