New Mexico Geology
About NMG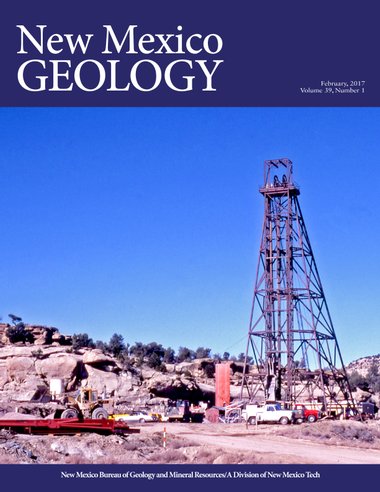 New Mexico Geology is a quarterly, peer-reviewed journal. Articles of original research are generally less than 10,000 words in length and pertain to the geology of New Mexico and neighboring states, primarily for an audience of professional geologists or those with an interest in the geologic story behind the landscape. Previously published in the journal, abstracts from regional meetings, theses, and dissertations (NM schools), descriptions of new publications, and upcoming meetings are now listed with links to these resouces on the NMG web page. Research papers and short articles from selected back issues of New Mexico Geology are also available as free downloads in PDF format. Back issues are also available in hard copy for a nominal fee.
Guidelines for submissions to NMG
Authors interested in submitting manuscripts should view our author guidelines.
Availability
In 2015, New Mexico Geology became available only as a free digital publication. Printed back issues from 1979-2014 are still available for a modest fee.
Subscriptions
You can subscribe to receive an email notice when a new issue is posted online.
Additional Resources
Past issues of NMG contained information regarding meetings, events, and service news. Most of this information is now readily available online from this and other sites and is generally updated far more regularly than our quarterly journal.
News & Events
Data
Meeting Abstracts
Theses from NM Universities
Search Tools
If there are other related non-commercial online resources that should be included here, or on other pages, please contact us using the link at the bottom of the page.
Printed Back Issues
(Availability is limited for some volumes and issues.)