Development of 3D Aquifer Maps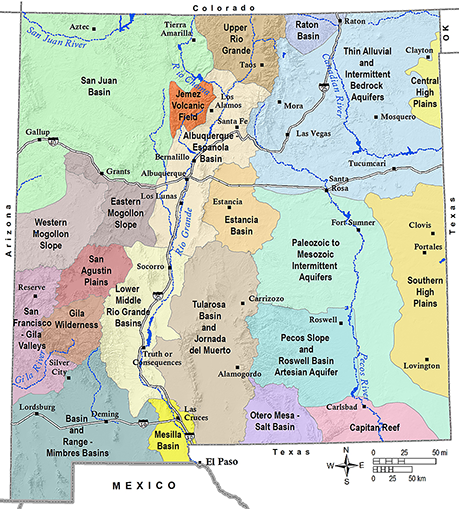 It is surprising that New Mexico does not have a detailed map of all of the productive and accessible aquifers across the state. We are underway in a multi-year project to develop 3D maps of aquifers. This effort utilize existing data to develop regional, digital maps of New Mexico's aquifers. The maps of the aquifers will focus on the accessible (<1000 ft), actively used groundwater resources.
In order to develop functional aquifer maps, our approach will incorporate multiple datasets including:
1. the state's geology
2. well records in the Office of the State Engineer's Water Rights Reporting System
3. water level and well data from the U.S. Geological Survey
4. numerous reports and maps of aquifers
These maps will be developed and released region-by-region as multiple products including GIS map packages, technical and non-technical reports. The regions we will be addressing are grouped together on map shown below.
Currently, the Estancia basin project is wrapping up and we are working on 3 other regions. This work will also highlight regions where data are lacking, and highlight future research needs.
Non-technical products
| | |
| --- | --- |
| Our precious shared resource | Geology and Groundwater |
Technical reports and GIS map packages
Coming soon!
Funded by Healy Foundation, and the Aquifer Mapping Program.
If you'd like more information, please contact:
Stacy Timmons, Aquifer Mapping Program Manager, Stacy.Timmons@nmt.edu, (575) 835 6951