Kelsey C. McNamara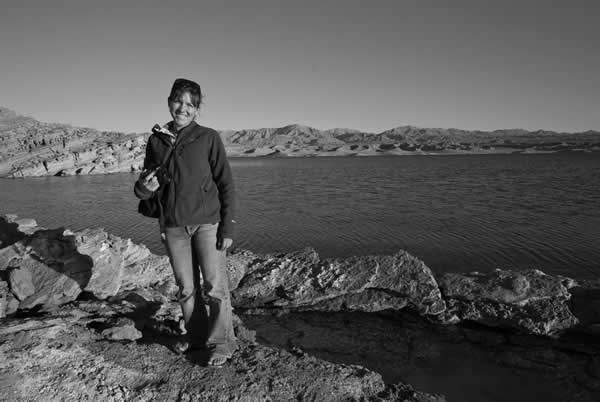 Mineral Museum Curator
X-ray Diffraction Lab Manager
New Mexico Bureau of Geology & Mineral Resources
New Mexico Tech
801 Leroy Place
Socorro NM 87801-4796
(575) 835-5418 Office Phone
(575) 835-6333 fax


I am the Mineral Museum Curator and X-Ray Diffraction (XRD) lab manager at the New Mexico Bureau of Geology and Mineral Resources. My main responsibilities include managing museum collections, operating the XRD lab, supervising undergraduate museum assistants, and assisting with K-12 outreach activities.

I work closely with the Mineral Museum Director, Virgil Lueth, on the acquisition, organization, and maintenance of the mineral, fossil, artifact, gemstone, meteorite, and teaching collections (and respective databases). I am also responsible for constructing displays, overseeing undergraduate museum assistants, creating museum announcements using social media, and providing mineral identification for patrons. As the XRD lab manager, I am accountable for running samples, interpreting data, generating reports for & billing clients, as well as helping NMT students use XRD for research projects. In addition, I also work with Cynthia Connolly on a variety of outreach activities including guiding K-12 and rockhounding groups through the museum, assisting with classroom demonstrations, instructing educators at the annual 'Rockin Around New Mexico' fieldtrip, and acting as an event supervisor for Science Olympiad.
Education
PhD Candidate* in Earth Sciences, August 2010 – June 2014 (*Left program before finishing degree)
University of New Mexico, Albuquerque, New Mexico
Advisor: Dr. Gary Weissmann
Master of Science in Earth Sciences, August 2006 – January 2010
Montana State University, Bozeman, Montana
Thesis Title: "Influence of Growing Structures on Cretaceous Alluvial Systems Along the Cordilleran Thrust-Belt Front, Valley of Fire, Southern Nevada"
Advisor: Dr. James G. Schmitt
Bachelor of Science in Geological Sciences, September 2000 – June 2006
Minor in Business Administration
Ohio University, Athens, Ohio
Thesis Title: "Tectonic Influence on Sequence Architecture of the Upper Brush Creek to Skelley Interval (Upper Pennsylvanian) in Southeast Ohio"
Advisor: Dr. Gregory C. Nadon