GM-52—Geology of Florida Gap quadrangle, Luna County, New Mexico
By R. E. Clemons, 1982, lat 32°07'30" to 32°15', long 107°30' to 107°37'30", 1 sheet with text, scale 1:24,000.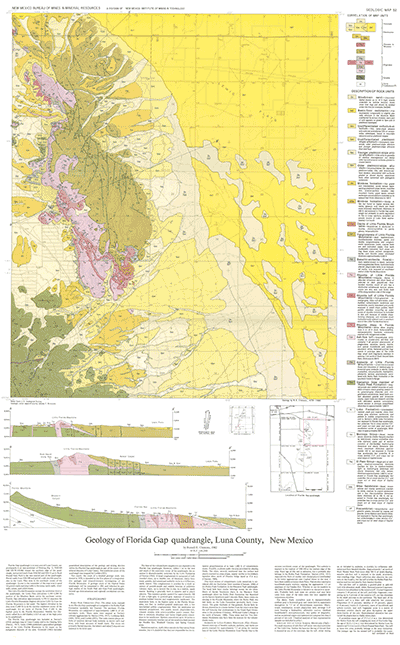 Florida Gap quadrangle is in east-central Luna County, approximately 6 mi east-southeast of Deming and covers the Lewis Flats area of the Mimbres Basin, Rock Hound State Park, and Florida Gap which separates the Little Florida Mountains from the Florida Mountains. This map is the first phase of a comprehensive geologic and mineral-resource investigation of the Florida Mountains; other quadrangles mapped are Capitol Dome (GM 56), South Peak (GM 59), and Gym Peak (GM 58). There is also a comprehensive work printed in 1998, Memoir 43.

Also available as a free download.