GM-77—Geology of the McLeod Tank quadrangle, Sierra County, New Mexico
By W. R. Seager and G. H. Mack, 1998, lat 32°45' to 32°52'30", long 107°07'30" to 107°15', 2 sheets scale 1:24,000.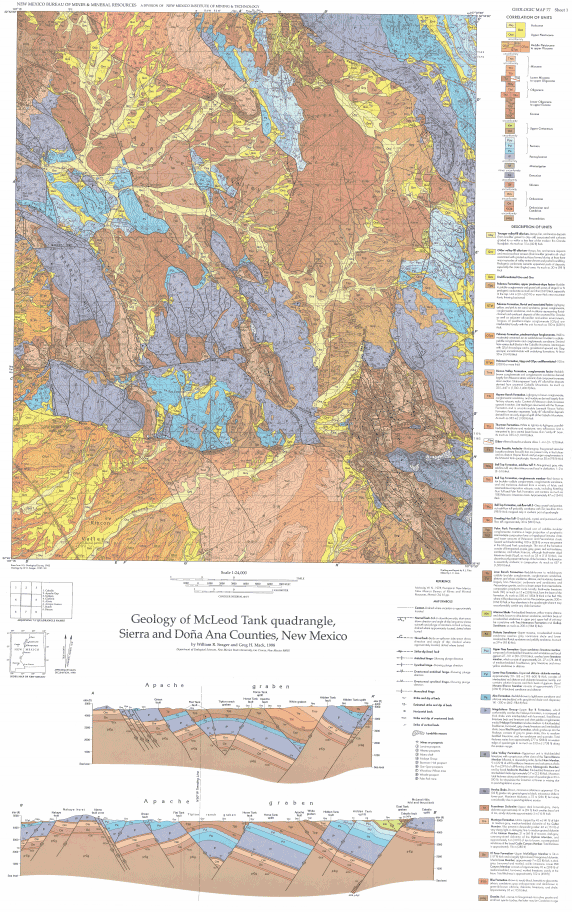 The McLeod Tank quadrangle is located in the heart of the southern Caballo Mountains. All but a 2-mi-wide strip along the quadrangle's southern boundary lies in Sierra County. One of the major uplifts in the southern Rio Grande rift, Caballo fault blocks expose rocks of every geologic system, except the Triassic and Jurassic. Of special interest are thick lower and upper Tertiary orogenic deposits, which together with structural features of the same age, offer a relatively complete record of the nature of the Laramide orogeny and evolution of the Rio Grande rift in south-central New Mexico.
A northwest-trending belt of overturning and thrust faulting exposed in the McLeod Hills in the northeast part of the quadrangle is the structural boundary between the Laramide (latest Cretaceous-early Tertiary) Rio Grande uplift and complementary Love Ranch Basin. The structurally high area to the southwest of the McLeod Hills is demonstrated by an unconformity at the base of the Love Ranch Formation that truncates strata ranging in age from Late Cretaceous to Precambrian. From 3,280 ft to as much as 6,070 ft of strata were removed by erosion.
The modern topography in the McLeod Tank quadrangle is the result of eroded fault blocks-grabens, horsts, and tilted blocks-formed during the Miocene-Pliocene-age extensional deformation in the southern Rio Grande rift.

Also available as a free download.