Circular 156—Volcanoes and related basalts of Albuquerque Basin, New Mexico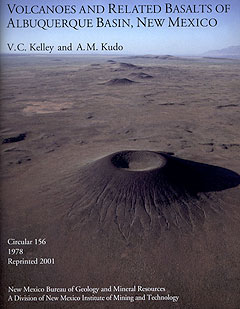 By V. C. Kelly and A. M. Kudo, 1978. Reprinted 2001.
This reissue honors the collaboration 25 years ago to two great New Mexico geologists. In 1975, Vincent C. Kelly and Albert M. Kudo submitted a manuscript describing the late Cenozoic volcanic rocks of the central Rio Grande rift. Circular 156 laid the groundwork for a quarter of a century of research. 30 pp., 16 tables, 32 figures, 2 oversize sheets. ISBN 1-883905-06-0 $10.00.
ISBN: 9781883905064

Also available as a free download.