Circular 180—Contributions to Mid-Cretaceous paleontology and stratigraphy of New Mexico
Compiled by S. C. Hook, 1981, 35 pp., 2 tables, 12 figs. Companion to Circulars 185, 195, and Bulletins 114, 122.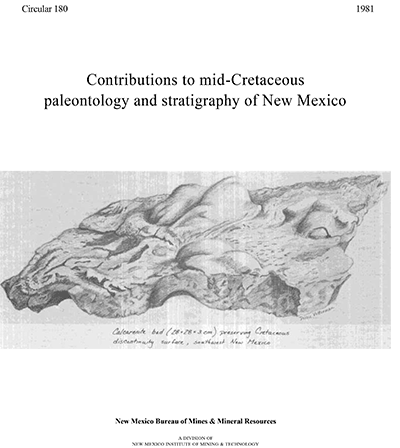 This circular is the first in a planned series of short papers on the paleontology and stratigraphy of the mid-Cretaceous (Albian, Cenomanian, and Turonian) of New Mexico. Mid-Cretaceous rocks are economically important because they are associated with or are accepted as the primary source rocks for much of the oil and gas production from the Cretaceous in the Rocky Mountain states. Rocks of mid-Cretaceous age present many problems concerning age relationships and correlation because of the presence in the Western Interior seaway of both warm-water (tethyan) and cool-water (North Temperate) provinces and because of complex orogenic events and shoreline movements. Problems in stratigraphic nomenclature and correlation of mid-Cretaceous rocks are common to many areas in New Mexico-Arizona border in west-central New Mexico; the isolated exposures of Upper Cretaceous rocks in the Deming, Silver City, Las Cruces, Truth or Consequences, and El Paso areas; and the Gallup Sandstone of west-central and northwest New Mexico. The answers to some of these problems will be found in stratigraphic studies of rocks exposed in Texas, Arizona, Mexico, and Colorado. A detailed faunal zonation is of primary importance for correlation within and between basinal areas.

Also available as a free download.