Lite Geology
Lite Geology was first published in the fall of 1992. Each issue includes articles and classroom activities, plus regular features, teachers' resources, web links, and upcoming geological and scientific events. Each issue is free and in PDF format with bookmarked sections and links. [more details]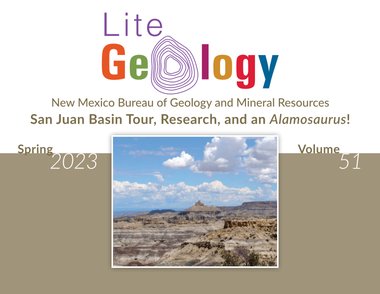 Issue 51 — San Juan Basin Tour, Research, and an Alamosaurus!
Free Download 4.92 MB
Welcome to our 51st edition of Lite Geology! Lite Geology 51 explores the San Juan Basin in the Four Corners area of northwestern New Mexico. Kevin Hobbs, New Mexico Bureau of Geology and Mineral Resources (NMBGMR) Field Geologist, lets you ride shotgun on a geologic road tour of the San Juan Basin. Geologist Kate Zeigler, owner of Zeigler Geologic Consulting, LLC, describes her work with Navajo Technical University (NTU), Navajo Transitional Energy Company, and Navajo Nation schoolchildren to excavate "Little Foot," a Late Cretaceous Period Alamosaurus. Our NMBGMR Mineral Museum Curator Kelsey McNamara provides an overview of San Juan Basin concretions for our Earth Briefs segment. Virginia McLemore, Senior Economic Geologist, shares her research on utilizing San Juan Basin coal and coal fly ash as a source of rare earth elements. Geochemist Bonnie Frey discusses the role of the NMBGMR/New Mexico Tech (NMT) partnership with NTU to use water filtration technology as a teaching tool for NTU students and as a way to improve water quality for the Navajo Nation. And lastly, our Through the Hand Lens series focuses on Talon Newton as he discusses his work as an NMBGMR hydrogeologist and his research on the effects of the 2015 Gold King Mine spill on the Animas River.
The Cretaceous and Paleogene Rock Units of the San Juan Basin
— Kevin Hobbs
Using a "Little" Dinosaur to Encourage STEM Pathways for Middle School Students on the Navajo Nation
— Kate Zeigler and Matt Owens
Earth Briefs: Oddities & Curiosities—Concretions of the San Juan Basin
— Kelsey McNamara
Rare Earth Elements and Critical Minerals in Late Cretaceous Coal and Related Strata in the San Juan and Raton Basins, New Mexico
— Virginia McLemore
Filtration System Becomes Teaching Tool and Improves Water Quality
— Bonnie Frey
Through the Hand Lens with Talon Newton
— Talon Newton