Lite Geology — Current Issue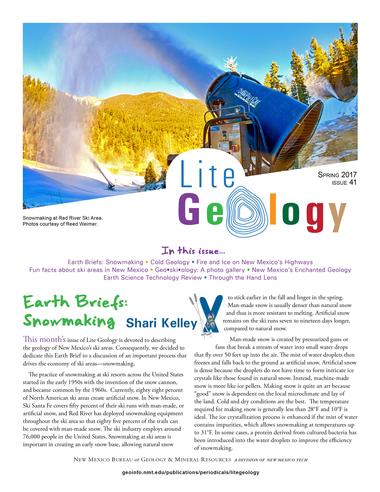 In the Latest Issue:
Earth Briefs: Snowmaking
— S. Kelley
Cold Geology
— M. Zimmerer
Fun Facts about Ski Areas in New Mexico
— New Mexico's Stats
Geo-ski-ology: A photo gallery
— V. Lueth, L. Heizler, M. Zimmerer, and K. McNamara
New Mexico Enchanted Geology
— M. Wilks
Earth Science Technology Review
— A. Jochems
Through the Hand Lens: Profile of a New Mexico Earth Scientist
— N. Dunbar
Free Download 17.6 MB
Lite Geology was first published in the fall of 1992. Each issue includes articles and classroom activities, plus regular features, teachers' resources, web links, and upcoming geological and scientific events.
Each issue is free and in PDF format with bookmarked sections and links. To go to an online address within the issue just click on the link with your cursor and go. If you'd like, you can request to receive an e-mail notice when a new issue becomes available.
If you want to know when a new issue becomes available, you can subscribe to our email notification service.