Lite Geology — Current Issue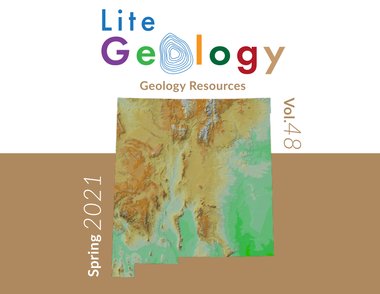 In the Latest Issue:
The New Mexico Bureau of Geology Website: Resources for You and Your Students
— Adam Read
CoCoRaHS:  A Free, Hands-on, Citizen Science and Teaching Resource
— Kevin Hobbs
New Mexico Museum of Natural History & Science: A Gateway to Geological Resources
— Jayne Aubele
Geology and Calcite Deposition of Fort Stanton-Snowy River Cave
— Johanna M. Blake
Annenburg Learners Geology Interactives
— Hope Cahill
Take a Virtual Field Trip to the Jemez Mountains
— Siobhan Niklasson
Through the Hand Lens: Rockin' Around New Mexico and the New Mexico Tech Master's in Science Teaching Program
— Laureen Pepersack
Free Download 3.55 MB
Lite Geology was first published in the fall of 1992. Each issue includes articles and classroom activities, plus regular features, teachers' resources, web links, and upcoming geological and scientific events.
Each issue is free and in PDF format with bookmarked sections and links. To go to an online address within the issue just click on the link with your cursor and go. If you'd like, you can request to receive an e-mail notice when a new issue becomes available.
If you want to know when a new issue becomes available, you can subscribe to our email notification service.