Lite Geology
Issue 50 — Fieldwork
Free Download 7.40 MB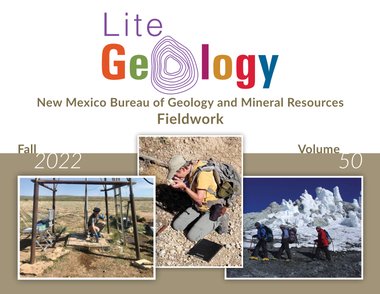 What's in Your Pack?
— Kevin Hobbs
Rare Earth Element Deposits in the Gallinas Mountains, Lincoln County, New Mexico
— Virginia T. McLemore, Shari Kelley, and Matthew J. Zimmerer
Fieldwork as a Tool for Assessing Groundwater Resources in the Salt Basin of New Mexico and Texas
— Shari Kelley and Marissa Fichera
Geophysical Fieldwork in the Salt Basin
— Shari Kelley
Geologic Mapping in the Little San Pascual Mountains
— Daniel Koning, W. John Nelson, Scott Elrick, and Snir Attia
Westside Sacramento Mountains Watershed Restoration Project—Education and Outreach
— Talon Newton and Cynthia Connolly
Through the Hand Lens with Dan Koning
— Daniel Koning
Lite Geology was first published in the fall of 1992. Each issue includes articles and classroom activities, plus regular features, teachers' resources, web links, and upcoming geological and scientific events.
Each issue is free and in PDF format with bookmarked sections and links. To go to an online address within the issue just click on the link with your cursor and go. If you'd like, you can request to receive an e-mail notice when a new issue becomes available.
If you want to know when a new issue becomes available, you can subscribe to our email notification service.