Lite Geology — Current Issue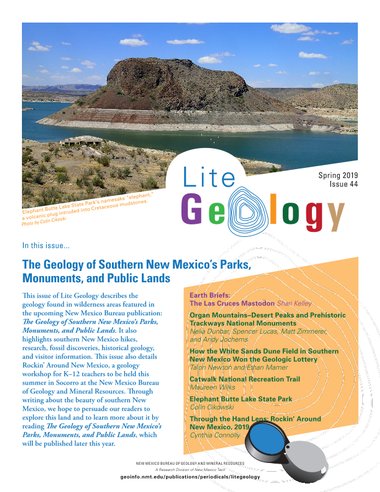 In the Latest Issue:
The Las Cruces Mastodon
— Shari Kelley
Organ Mountains–Desert Peaks and Prehistoric Trackways National Monuments
— Nelia Dunbar, Spencer Lucas, Matt Zimmerer, and Andy Jochems
How the White Sands Dune Field in Southern New Mexico Won the Geologic Lottery
— Talon Newton and Ethan Mamer
Catwalk National Recreation Trail
— Maureen Wilks
Elephant Butte Lake State Park
— Colin Cikoski
Through the Hand Lens: Rockin' Around New Mexico, 2019 Socorro
— Cynthia Connolly
Free Download 17.0 MB
Lite Geology was first published in the fall of 1992. Each issue includes articles and classroom activities, plus regular features, teachers' resources, web links, and upcoming geological and scientific events.
Each issue is free and in PDF format with bookmarked sections and links. To go to an online address within the issue just click on the link with your cursor and go. If you'd like, you can request to receive an e-mail notice when a new issue becomes available.
If you want to know when a new issue becomes available, you can subscribe to our email notification service.