Lite Geology — Current Issue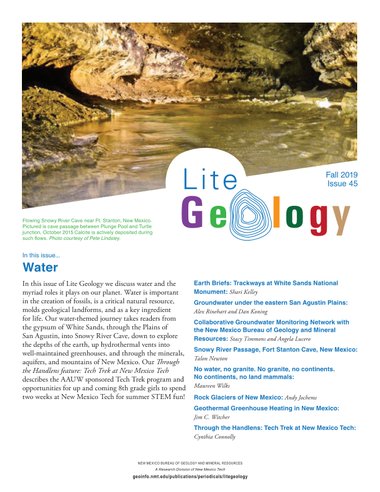 In the Latest Issue:
Trackways at White Sands National Monument
— Shari Kelley
Groundwater under the eastern San Agustin Plains
— Alex Rinehart and Dan Koning
Collaborative Groundwater Monitoring Network with the New Mexico Bureau of Geology and Mineral Resources
— Stacy Timmons and Angela Lucero
Snowy River Passage, Fort Stanton Cave, New Mexico
— Talon Newton
No water, no granite. No granite, no continents. No continents, no land mammals.
— Maureen Wilks
Rock Glaciers of New Mexico
— Andy Jochems
Geothermal Greenhouse Heating in New Mexico
— James C Witcher
Through the Handlens: Tech Trek
— Cynthia Connolly
Free Download 15.0 MB
Lite Geology was first published in the fall of 1992. Each issue includes articles and classroom activities, plus regular features, teachers' resources, web links, and upcoming geological and scientific events.
Each issue is free and in PDF format with bookmarked sections and links. To go to an online address within the issue just click on the link with your cursor and go. If you'd like, you can request to receive an e-mail notice when a new issue becomes available.
If you want to know when a new issue becomes available, you can subscribe to our email notification service.