Lite Geology — Current Issue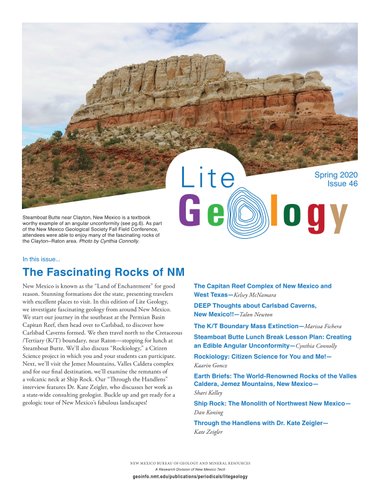 In the Latest Issue:
The Captain Reef Complex of New Mexico and West Texas
— Kelsey McNamara
Deep Thoughts about Carlsbad Caverns, New Mexico!!
— Talon Newton
K/T Boundary Report
— Marissa Fichera
Steamboat Butte Lunch Break Lesson Plan: Edible Angular Unconformity
— Cynthia Connolly
Rockiology: Citizen Science for you and Me!
— Kaarin Goncz
The World-Renowned Rocks of the Valles Caldera, Jemez Mountains, New Mexico
— Shari Kelley
Ship Rock: The Mountain of Northwest New Mexico
— Dan Koning
Through the Hand Lens: with Dr. Kate Zeigler
— Kate Zeigler
Free Download 13.6 MB
Lite Geology was first published in the fall of 1992. Each issue includes articles and classroom activities, plus regular features, teachers' resources, web links, and upcoming geological and scientific events.
Each issue is free and in PDF format with bookmarked sections and links. To go to an online address within the issue just click on the link with your cursor and go. If you'd like, you can request to receive an e-mail notice when a new issue becomes available.
If you want to know when a new issue becomes available, you can subscribe to our email notification service.