Cuatrociénegas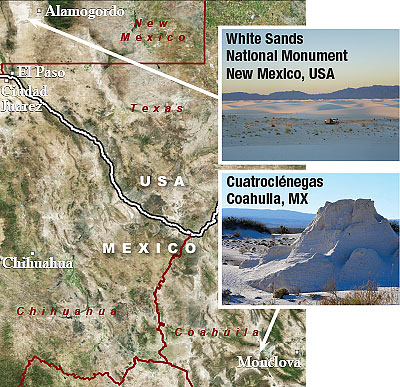 The gypsum dune deposits found at Cuatrociénegas and White Sands National Monument are two of only a handful of gypsum dune fields in the world. These surreal landscapes provide beautiful views and outdoor activities for tourists and serve as natural laboratories where researchers can study a variety of topics ranging from geology to evolutionary biology. Combined, both Cuatrociénegas and White Sands National Monument are home to more than 110 endemic species, specially adapted to the unique and fragile ecosystems of these gypsum rich environments. At present, the two dune fields have very different morphologies. At White Sands we see large active dunes that are stabilized by a shallow groundwater table. Cuatrociénegas presently is dominated by lithified blocks of gypsum. Preserved in these cemented relics are bedding planes that indicate that large dunes once dominated the area. Today there are only small 1 meter tall active dunes, generally anchored by vegetation. To understand what lead to the deflation of the Cuatrociénegas dune field a hydrologic investigation of the basin was conducted by the New Mexico Bureau of Geology. This study developed a conceptual model for the Cuatrociénegas dune system to understand the processes that formed and maintained the gypsum dune field in the past. The conceptual model helps our understanding of the effects that anthropogenic activities and natural processes had on the Cuatrociénegas dune field. This insight may help us to predict how similar activities, such as large groundwater diversions, may affect the White Sands dune field. While it is difficult to determine when the balance was tipped, it is likely that the shift started within the past 100 years, as the water resources in the basin began to be exploited. Possible impacts to the dunes include gypsum mining, draining of the wetlands and the decline of Laguna Grande, high-capacity agricultural water extraction, and long-term drought.
This has been an international collaborative study between the National Park Service (USA) and the National Commission of Protected Natural Areas (MEX) focusing on the hydrogeology found at the two gypsum sister parks. This project was funded by the National Park Service, and the New Mexico Bureau of Geology and Mineral Resources which is a non-regulatory research division of New Mexico Tech.
For more information, please contact:
Ethan Mamer, Hydrogeologist

AMP-Relevant Publications
Available for free download.
Open-file Report 589
2017, Ethan Mamer and Talon Newton