WRRI Statewide Water Assessment: Recharge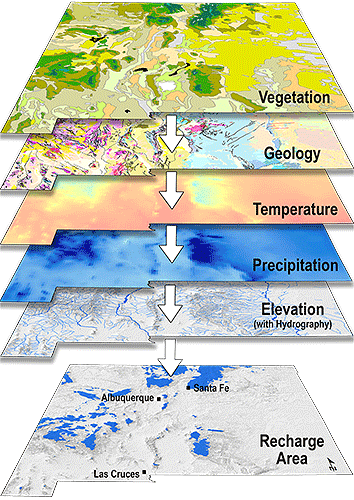 The rate and distribution of groundwater recharge to New Mexico's aquifers is the least understood aspect of the state's water budget. Despite a history of precise and distributed measurements quantifying surface water flow, water table elevations, precipitation amounts, as well as current models that describe evapotranspiration, a statewide assessment of recharge has not been completed. While recharge estimates and studies of recharge processes have been conducted, the effort to date has been on the basin scale, or by county and water planning region. With the goal of estimating groundwater recharge statewide, this study seeks to model recharge processes and calibrate the model with independently obtained recharge estimates based on field data. To date, in-place, or diffuse recharge potential has been estimated using the Evapotranspiration and Recharge Model (ETRM), which uses high resolution raster (pixelated) daily precipitation data, the National Land Data Assimilation System reference evapotranspiration, Normalized Density Vegetation Index (NDVI), state soils data, and state geology data to model the daily water balance of the soil over the state. This distributed parameter soil water balance has the advantage of modeling spatially continuous physical processes over a large extent, but is sensitive to inaccuracies in the input data. Work estimating recharge at mountainous sites around the state using chloride mass balance and improving our model with more accurate inputs and a runoff algorithm is ongoing.
Funded by New Mexico Water Resources Research Institute, New Mexico Bureau of Geology and Mineral Resources, and New Mexico Institute of Mining and Technology
For more information, please contact:
Dr. Talon Newton, Hydrogeologist
AMP-Relevant Publications
Available for free download.
Technical Fact Sheet, 2016, (1.3MB)
Talon Newton, New Mexico Bureau of Geology and Mineral Resources, at New Mexico Tech;
Fred Phillips, David Ketchum, Earth and Environmental Science Department at New Mexico Tech.