Mineralogical Museum
37thAnnual New Mexico Mineral Symposium

November 12 - 13, 2016
Macey Center
New Mexico Institute of Mining & Technology
Socorro, New Mexico
Sponsored by:
Albuquerque Gem and Mineral Club

Chaparral Rockhounds

Los Alamos Geological Society

New Mexico Geological Society Foundation

Friends of Mineralogy

City of Socorro

Grant County Rolling Stones

White Mountain Gem & Mineral Club
The New Mexico Mineral Symposium provides a forum for both professionals and amateurs interested in mineralogy. The meeting allows all to share their cumulative knowledge of mineral and artifact occurrences and provides stimulus for research and new discoveries.
This year's symposium will consist of a day and a half of formal papers presented in 30-minute time blocks. Papers will focus on mineral occurrences and artifacts from New Mexico and adjacent states, as well as Mexico. A few selected papers may be presented from other parts of the world.
On Friday, November 11, 2016, we will conduct a field trip to the Copper Flat copper porphyry deposit and a Friends of the Mineral Museum reception in the museum from 5-7 pm. An informal tailgating session will be held at local motels beginning on Friday and will last through the weekend.
A silent auction, sponsored by the Albuquerque Gem and Mineral Club for the benefit of the Mineral Museum, will be held on Sunday afternoon, November 13. The auction will be open to the public, and all interested may buy or sell. All sellers pay a modest fee to the club to benefit the symposium and Mineral Museum. More information will be available at the symposium.
CALL FOR PAPERS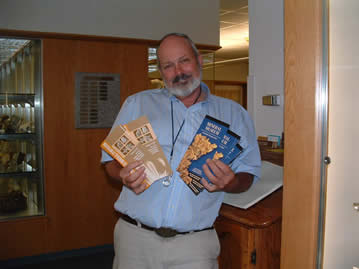 Papers on mineral occurrences and artifacts in New Mexico and adjacent states are invited for 30-minute presentations. All papers on the history of collecting, geology and geochemistry of mineral occurrences, new mineral localities, and mineralogical research will be considered.

Titles of papers must be submitted by July 15, 2016, to be included in the final announcement and program. Abstracts must be in no later than September 15, 2016. Abstracts can be no longer than 1,000 words. Electronic submissions are encouraged, via e-mail or on standard electronic storage media. Hard copy versions are also accepted if sent in a timely manner.

Please submit titles and abstracts to:
2016 Mineral Symposium Abstracts


Dr. Virgil W. Lueth
New Mexico Bureau of Geology and Mineral Resources
New Mexico Tech
801 Leroy Place
Socorro, NM 87801
vwlueth@nmt.edu 575.835.5140

REGISTRATION
The general registration fee for the symposium is $40.00, and the fee for students is $20.00 (with student ID). Mineral Symposium registration includes a copy of the abstracts, two continental breakfasts, and coffee breaks.
A cocktail hour and dinner will be held on Saturday, November 12, 2016. A cash bar will be available. The cost for the dinner is $30.00 for adults, $10.00 for children (2-12 years old). An auction to benefit the symposium will conclude the evening's activities.
Pre-registration forms and online registration will be available about a month before the symposium.