Mineralogical Museum
37thAnnual New Mexico Mineral Symposium

November 12 - 13, 2016
Macey Center
New Mexico Institute of Mining & Technology
Socorro, New Mexico
Sponsored by:
Albuquerque Gem and Mineral Club
Chaparral Rockhounds
Los Alamos Geological Society
New Mexico Geological Society Foundation
Grant County Rolling Stones
Friends of Mineralogy
White Mountain Gem and Mineral Club
Friends of Minerology–Colorado Chapter
City of Socorro
The New Mexico Mineral Symposium provides a forum for both professionals and amateurs interested in mineralogy. The meeting allows all to share their cumulative knowledge of mineral occurrences and provides stimulus for mineralogical studies and new mineral discoveries. In addition, the informal atmosphere encourages intimate discussions among all interested in mineralogy and associated fields.
This year's symposium will consist of a day and a half of formal papers presented in 30-minute time blocks. Papers will focus on mineral occurrences from New Mexico and adjacent states, as well as Mexico. A few selected papers may be presented from other parts of the world. An informal pre-symposium social and tailgating session will be held at local motels beginning on Friday, November 11, 2016, and will last through the weekend.
Featured Speaker— John Cornish
Born in December of 1961, John, a native of Washington State, waited until age 29 to experience his first serious exposure to things crystalline and paleontological when he noticed treasures displayed at a friend's home. Burning with a desire to learn more and to make new discoveries, a quick field trip soon resulted in an immersion into the exotic world of field collecting. Among his local Olympic Peninsula fossil discoveries is a new species of cetacean (whale) and a monstrous, flightless bird (think of a Godzilla-sized-penguin!). A number of fossils have been named in his honor.
John owns, or is a partner in, several specimen mining properties in the western United States. Among these, the most renowned is the Rat's Nest claim located in central Idaho. Here John mines worldclass mordenite and heulandite specimens from large crystal-lined vesicles up to just over 2-meters in length. Recently, John has shifted a percentage of his collecting focus from the U.S. to collecting overseas in Tasmania, Australia. There he helped exploit an exceptional crocoite pocket which measured approximately 13-meters in length and took two years to excavate.
When home, John enthusiastically shares his passion for minerals and fossils through a presentation he calls, Geology ROCKS! Over 25,000 people have seen his talks, the majority presented within the Olympic National Park through an educational and environmental themed partnership. He owns and operates John Cornish Minerals and is represented at our country's largest mineral shows as well as at local shows in the Pacific Northwest.
Mineral Symposium Field Trip — Copper Flat Mine
The Copper Flat mine is a porphyry copper/breccia pipe deposit located west of Truth or Consequences, approximately 100 miles south and west of Socorro (Driving time 1 hour 30 minutes). We will be able to collect at the open pit and surrounding rock piles. Plus we will set up some gold panning in the creek. Directions: Exit 63 for Hillsboro. From I-25, head west on Highway 152. Turn at the Themac Copper Flat sign and follow dirt road to the gate, keeping to the right. Do not cross the creek. Please let Virginia McLemore know if you are coming so we have an idea of how many to expect. Bring lunch, water, and digging tools. Meet at the gate to the mine at 9 AM.
CALL FOR PAPERS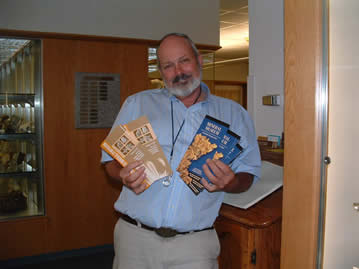 Papers on mineral occurrences and artifacts in New Mexico and adjacent states are invited for 30-minute presentations. All papers on the history of collecting, geology and geochemistry of mineral occurrences, new mineral localities, and mineralogical research will be considered.

Titles of papers must be submitted by July 15, 2016, to be included in the final announcement and program. Abstracts must be in no later than September 15, 2016. Abstracts can be no longer than 1,000 words. Electronic submissions are encouraged, via e-mail or on standard electronic storage media. Hard copy versions are also accepted if sent in a timely manner.

Please submit titles and abstracts to:
2016 Mineral Symposium Abstracts


Dr. Virgil W. Lueth
New Mexico Bureau of Geology and Mineral Resources
New Mexico Tech
801 Leroy Place
Socorro, NM 87801
vwlueth@nmt.edu 575.835.5140

Registration
The general registration fee for the symposium is $40.00, and the fee for students is $20.00 (with student ID). Registration includes a copy of the abstracts, two continental breakfasts, and coffee breaks. A cocktail hour and dinner will be held on Saturday, November 12, 2016. A cash bar will be available. The cost for the dinner is $30.00 for adults, $10.00 for children (2–12 years old). An auction to benefit the symposium will conclude the evening's activities. The dinner and auction will be in the Fidel Center, Ballrooms A and B.
Pre-registration forms and online registration will be available about a month before the symposium.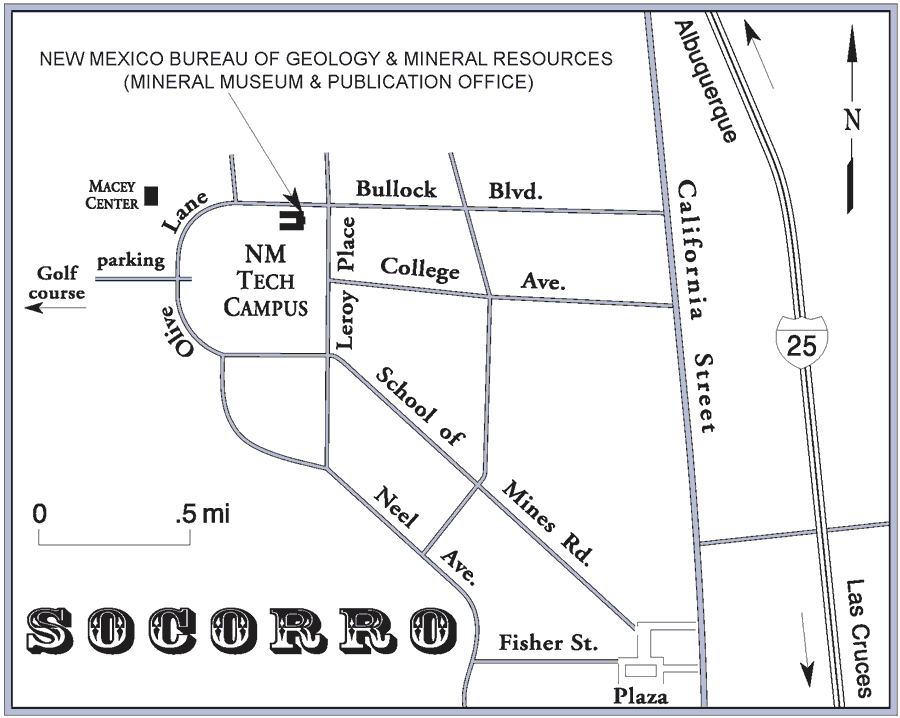 Schedule
Friday November 11, 2016
8:00 am to Field Trip to Copper Flat, Sierra County, N.M. — Virginia T. 5:00 pm McLemore, trip leader.
5:00 pm to Friends of the Museum Reception — Headen Center (Bureau 7:00 pm of Geology) atrium. Appetizers and Cash Bar.
7:00 pm Informal motel tailgating and social hour, individual rooms, Comfort Inn & Suites (#1 on map) and other venues — FREE
6:00 pm Informal tailgating and social hour, individual rooms, Comfort Inn & Suites (#1 on map) and other venues — FREE
Saturday November 12, 2016
8:00 am Registration, Macey Center, continental breakfast
8:50 Opening remarks, main auditorium
9:00 Fluorite localities of Arizona — Barbara Muntyan
9:30 All that glitters — Larry Havens and Jack Thompson
10:00 Coffee and Burrito break
11:00 The Petaca District, New Mexico: New findings from an old district —Michael N. Spilde, Steve Dubyk, William P. Moats, and Brian Salem
11:30 Collecting the San Juans II — Tom Rosemeyer
12:00 pm Lunch & Museum Tour
1:30 What ever happened to the mineral specimens from Captain Jack's Black Queen Mine? — Jane Bardal
2:00 Cultural aspects of mineral collecting in China — Mark Jacobson
2:30 An unrightfully unknown geologist — Herwig Pleckmann
3:00 Coffee break
3:30 There once was a goat named KÃ¥re: Over a millennium of mining from Falu Gruve, Sweden — Nathalie Brandes and Paul Brandes
4:00 Upside down and in the future, mining Tasmania's Adelaide Mine — John Cornish (Featured Speaker)
5:30 Sarsaparilla and suds: cocktail hour, cash bar: Fidel Center Ballroom
6:30 Silent Auction and Dinner followed by a voice auction to benefit the New Mexico Mineral Symposium — Fidel Center Ballrooms
Sunday November 13, 2016
8:00 am Morning social, coffee and donuts
8:50 Welcome to the second day of the symposium and follow-up remarks
9:00 The evolution of uranium mineralogy in New Mexico — Virgil W. Lueth and Kelsey McNamara
9:30 Fabulous fluorites and other minerals from Cooke's Peak: Following in the footsteps of legends — Philip Simmons and Michael Sanders
10:00 Coffee break
10:30 Quartz from Arizona–Les Presmyk
11:00 New red beryl find in Paramount Canyon shows promise — Michael C. Michayluk
11:30 A New Mexico occurrence of sidwillite and other molybdenum secondary minerals — Ramon DeMark and Virgil W. Lueth
12:00 pm Lunch
1:15 to Silent auction, upper lobby, Macey Center, sponsored by the 3:00 Albuquerque Gem and Mineral Club for the benefit of the Mineral Museum (FREE)