New Mexico Mineral Symposium
Plan to attend the:
38thAnnual Symposium — November 11-12, 2017
Macey Center
New Mexico Institute of Mining & Technology
Socorro, New Mexico
Sponsored by:
New Mexico Bureau of Geology Mineral Museum
Albuquerque Gem and Mineral Club
Chaparral Rockhounds
Los Alamos Geological Society
Grant County Rolling Stones
Friends of Mineralogy
White Mountain Gem and Mineral Club
Friends of Minerology-Colorado Chapter
City of Socorro
The New Mexico Mineral Symposium provides a forum for both professionals and amateurs interested in mineralogy. The meeting allows all to share their cumulative knowledge of mineral occurrences and provides stimulus for mineralogical studies and new mineral discoveries. In addition, the informal atmosphere encourages intimate discussions among all interested in mineralogy and associated fields.
This year's symposium will consist of a day and a half of formal papers presented in 30-minute time blocks. Papers will focus on mineral occurrences from New Mexico and adjacent states, as well as Mexico. A few selected papers may be presented from other parts of the world. An informal pre-symposium social and tailgating session will be held at local motels beginning on Friday, November 10, 2017, and will last through the weekend.
Featured Speaker:
Terry Huizing — Collecting Geode Minerals in the American Midwest"
Terry E. Huizing, a consulting editor of Rocks & Minerals magazine, is Adjunct Curator of Mineralogy at the Cincinnati Museum Center and focuses his personal collecting activities on calcite, pseudomorphs, and minerals from the American Midwest.
Minerals found in the carbonate rocks of the American Midwest are well crystallized, beautiful, and abundant. Spectacular crystals occur in a wide range of habits, color, and association with other min - erals. Collectible minerals from the Midwest occur at mines located in Mississippi Valley-type deposits, at limestone quarries, and within quartz geodes occurring only in rocks of Mississippian age.
Terry's talk will feature a great number of photos of the mineral species found at three important geode fields.
Mineral Symposium Field Trip — Bursum Mine
The Bursum Mine (aka U.S. 60 Mine) is located in the Luis Lopez Manganese Mining District immediately south of Socorro along U.S. Highway 60. The mine is unique in the district in that it produced banded goethite and hematite in greater abundance than manganese oxide minerals. Botryoidal and stalactite specimens have found their way into collections and museums around the country. Portions of the deposit have been recently reclaimed by the hosts of the trip, Alan Perryman and Richard Overley, and the rest of the deposit is on state land. Meet at the shrine along U.S. 60, (mile post 133) west of Socorro at 9:00 a.m. Friday, November 10, to be escorted to the collecting site by Alan and Richard. For more information contact: altperr@yahoo.com.
Friends of the Museum Reception — Fri., November 10th
A reception hosted by John and Maryanne Fender for the Friends of the Museum will be held in the Headen Center Atrium (Museum ) from 5 to 7 pm. Appetizers will be served along with a cash bar. You can join the "Friends" group at the reception; annual membership fee is $25.
Registration
The general registration fee for the symposium is $40.00, and the fee for students is $20.00 (with student ID). Registration includes a copy of the abstracts, two continental breakfasts, and coffee breaks. A cocktail hour and dinner will be held on Saturday, November 11, 2017. A cash bar will be available. The cost for the dinner is $30.00 for adults, $10.00 for children (2-12 years old). An auction to benefit the symposium will conclude the evening's activities. The dinner and auction will be in the Fidel Center, Ballrooms A and B.
Pre-registration for next year is not yet available.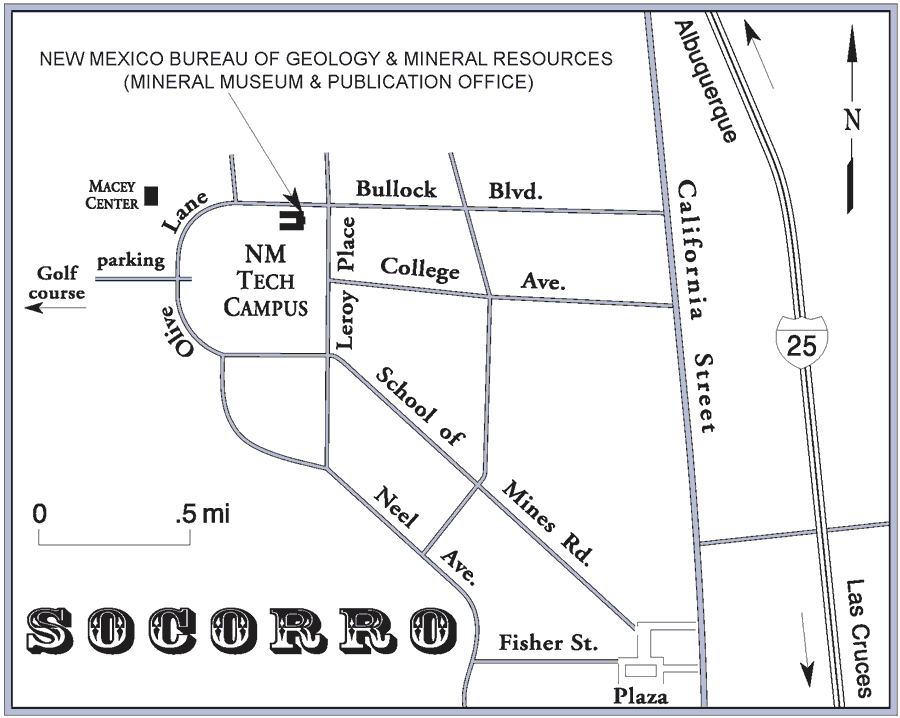 Schedule
Friday November 10, 2017
8:00 am to 5:00 pm: Field Trip to Bursum Mine, Socorro County, N.M. — Alan Perryman and Richard Overley, trip leaders
5:pm to 7 pm: Friends of the Museum Reception — Headen Center
7:00 pm: (Bureau of Geology) atrium. Appetizers and Cash Bar
7:00 pm: Informal motel tailgating and social hour, individual rooms, Comfort Inn & Suites (# 1 on map) and other venues — FREE
Saturday November 11, 2017
8:00 am: Registration, Macey Center; continental breakfast
8:50 am: Opening remarks, main auditorium
9:00 am: Exploring the Minerals of Wind Mountain: An Alkaline Laccolith near the Border with Texas — Michael Michayluk (1)
9:30 am: Adventures of the Conglomerate Kid in the Michigan Copper Country — Tom Rosemeyer
10:00 am: Coffee and Burrito break
11:00 am: The Piedmont Mine: History, Minerals, and Myths — Barbara Muntyan (2)
11:30 am: What I did on my Summer Vacation: The "Pet"rified Forest Project — Alan Perryman (3)
12:00 pm: Lunch & Museum Tour.
2:00 pm: Updated Mineral Lists For The Georgetown District, Grant County, New Mexico — Robert Walstrom (4)
2:30 pm: Enchanted Adventures: 30 Years of Field Collecting New Mexico — Philip Simmons
3:00 pm: Coffee break
3:30 pm: Caledonite and Linarite from the Blanchard Mine, Bingham, New Mexico — Ray DeMark and Tom Katonak (5)
4:00 pm: Collecting Geode Minerals in the American Midwest — Terry Huizing (Featured Speaker)
5:30 pm: Sarsaparilla and suds: cocktail hour, cash bar — Fidel Center Ballrooms
6:30 pm: Silent Auction and Dinner followed by a voice auction to benefit the New Mexico Mineral Symposium — Fidel Center Ballrooms
Sunday November 12, 2017
8:00 am: Morning social, coffee and donuts
8:50 am: Welcome to the second day of the symposium and follow-up remarks.
9:00 am: The Creation of the Sherman Dugan Museum of Geology at San Juan College, Farmington, New Mexico — Donna Ware and Jeff Self (6)
9:30 am: Kelly Mine Mineral Update — Patrick Haynes (7)
10:00 am: Coffee break
10:30 am: Micro and Thumbnail Treasures of the Graphic Mine, Magdalena District, Socorro County, New Mexico — Allen Schmeidicke (8)
11:00 am: Cripple Creek — The Untold Stories — Steven Veatch, Ben Elick, and Jenna Salvat (9)
11:30 am: The Desert Museum's Limestone Caves and Cave-like Minerals — Anna Dometrovic (10)
12:00 pm: Lunch
1:15 to 3:00 pm: Silent auction, upper lobby, Macey Center, sponsored by the Albuquerque Gem and Mineral Club for the benefit of the Mineral Museum (FREE)
Fieldtrip Photos
We have posted photographs of some prior symposium fieldtrips. If you have photographs you would like to share, please contact the webmaster.