Animas River Long Term Monitoring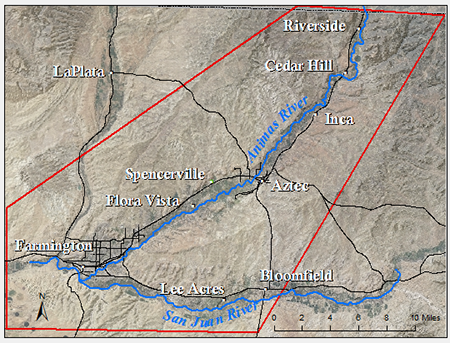 Our agency, in collaboration with the New Mexico Environment Department (NMED), is working on a hydro-geology study along the Animas River to better understand the groundwater and surface water interactions. This research is in response to the Gold King Mine spill (August 2015), as part of a long term monitoring effort underway with several other state agencies and universities.
The role of the NM Bureau of Geology is to examine the hydrologic connections between the Animas River, the irrigation ditches, and the private wells. Working with the NM Office of the State Engineer and the U.S. Geological Survey, we initiated a groundwater level monitoring network in August 2015. The data collected at that time clearly indicate that groundwater is moving into the Animas River (known as a "gaining" river). This is an important finding, as it relates to any potential for groundwater contamination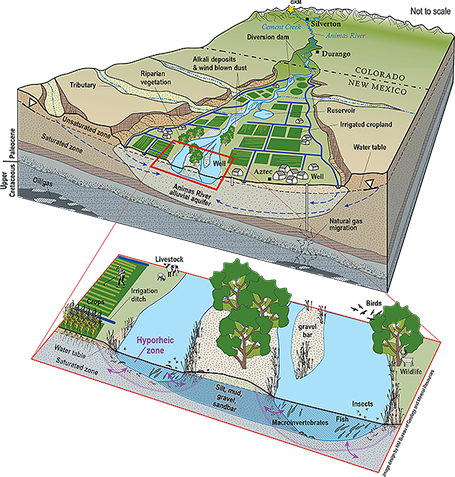 from the river. As part of the long term monitoring, we will repeat measurements of groundwater levels several times over the few years, during target seasons. We hope to determine how or if the river changes from a "gaining" river to a "losing" river (where river water seeps into the groundwater system). Additionally, we will also examine baseline groundwater quality data, and add new water quality data, in order to examine possible effects of the Gold King Mine spill on the groundwater along the Animas River.
Funded by the New Mexico Environment Department, Aquifer Mapping Program and the Bureau of Geology.

For more information, please contact:
Stacy Timmons, Hydrogeologist / Aquifer Mapping Program Manager
AMP-Relevant Publications
Monitoring the Animas River Alluvial Aquifer Groundwater Chemistry after the Gold Mine 2015 mine-water release
Available for free download.
Power Point Presentation, made to New Mexico Geological Society - 2015 Annual Spring Meeting, (8.7MB)
2016, Stacy Timmons, Ethan Mamer, and Cathryn Pokorny
Animas River Groundwater Level Monitoring after the Gold Mine 2015 mine-water release
Available for free download.
Power Point Presentation, made to New Mexico Geological Society - 2015 Annual Spring Meeting, (11.8MB)
2016, Ethan Mamer, Stacy Timmons, and Cathryn Pokorny