Cabezon Peak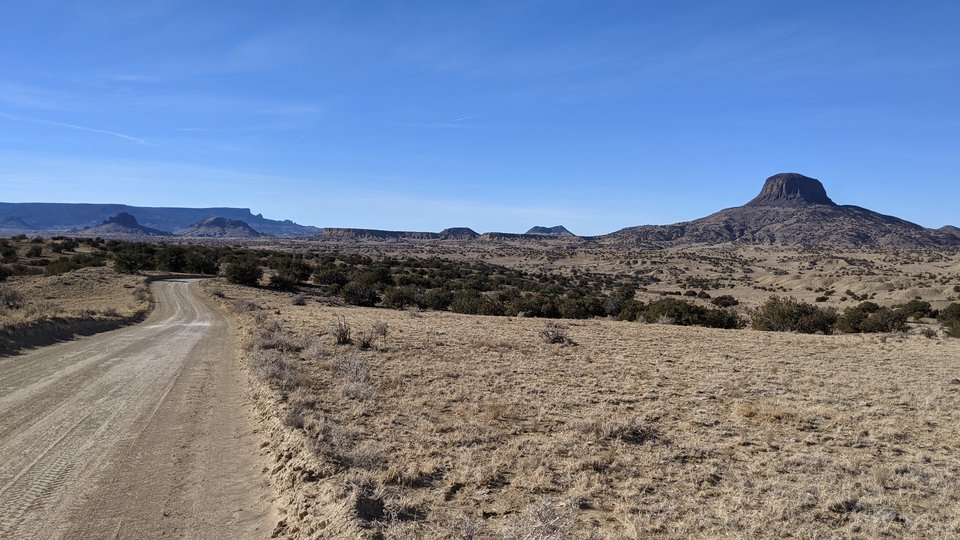 Image taken: 01/17/2021
by:
Adam Read
© 2021
Longitude: -107.095499039
Latitude: 35.5989469974
(WGS 84 or NAD 83)
About this image
Cabezon Peak is one of the best-known and most visible landmarks in northwest New Mexico. This giant volcanic plug is visible for tens of miles in all directions, and as far away as Placitas. Cabezon means "big head" in Spanish, and it is aptly named. It is the largest of several dozen widely scattered rocky monoliths, called the Rio Puerco necks. Rising above the Rio Puerco valley floor, they are some of the best-preserved examples of volcanic necks in the world. The craggy black peaks stand in sharp contrast to the sparsely vegetated, buff-colored lowlands from which they emerge. Mt. Taylor looms majestically to the southwest, Mesa Prieta borders the valley to the east, and the Jemez Mountains are visible to the north. This starkly beautiful landscape is unique in New Mexico. At an elevation of 7,786 ft, Cabezon Peak towers more than 1,100 ft above its base, and 2,000 ft above the Rio Puerco nearby.
— Douglas Bland
[See more information related to this image...]
Location
Cabezon is located about 75 miles northwest of Albuquerque. From Albuquerque, travel 17 miles north on I-25 to Bernalillo and take Exit 242, U.S. Highway 550 west. Travel 41 miles to N.M. 279. Turn west (left) at the sign that reads "San Luis, Cabezon, Torreon." Drive 8.4 miles to the end of the pavement, and continue four more miles until the road forks. Veer left onto BLM 1114 and continue another 3.8 miles (16.2 miles from U.S. 550). Turn left at a BLM sign for Cabezon Peak, and drive .9 miles to the parking area below Cabezon's west face.
Image posted: 02-08-2022