About New Mexico Geology
About NMG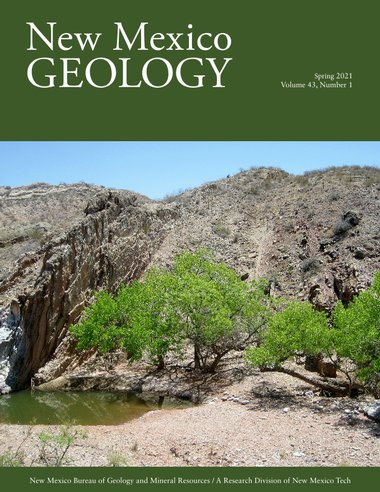 New Mexico Geology (NMG) publishes peer-reviewed research papers focusing on local topics of interest to the geoscientists in New Mexico and the surrounding region. Published quarterly since 1979, NMG transitioned to an online format in 2015, and is currently being issued twice a year. Full-length research articles are generally less than 10,000 words in length and pertain to the geology of New Mexico and surrounding areas. Shorter research papers are solicited as well, along with submissions to the Gallery of Geology, which presents images of geologic interest (landscape images, maps, specimen photos, etc.) accompanied by a short description. Research papers are available to the general public at no charge, and hard copies of back issues printed before the transition to electronic format can be purchased for a nominal fee, depending on availability.
Print ISSN: 0196-948X (prior to 2015)
Online ISSN: 2837-6420
Guidelines for submissions to NMG
Authors interested in submitting manuscripts should view our author guidelines.
Subscriptions
You can subscribe to receive an email notice when a new issue is posted online.
Additional Resources
Past issues of New Mexico Geology contained information regarding meetings, events, and service news. Most of this information is now readily available online from this and other sites and is generally updated far more regularly than our journal.
News & Events
Data
Meeting Abstracts
Theses from NM Universities
Search Tools
If there are other related non-commercial online resources that should be included here, or on other pages, please contact us using the link at the bottom of the page.
Printed Back Issues
(Availability is limited for some volumes and issues.)