Geologic Tour of the Mogollon-Datil Volcanic Field
Tour site types: •State Parks •Federal Parks •Other Features
(Click map to hide/show the physiographic province overlay.)
Brief Description
Lavas and tuffs erupted from andesitic to silicic volcanoes, domes, and calderas coalesced to form the Mogollon-Datil volcanic field in southwestern New Mexico between ~24 to 40 million years ago. This feature, which includes the mountainous terrain of the Gila Wilderness, covers 40,000 square kilometers. First, andesite volcanoes erupted across this region 40 to 36 million years ago. Later, both basaltic andesite volcanoes and silicic calderas formed between 36 and 24 million years ago. The field is composed of two caldera complexes that were active at about the same time. The oldest eruptions of the southern complex occurred in the Organ Mountains near Las Cruces about 36 million years ago. Volcanic activity migrated from the Organ Mountains toward the northwest 220 km, ending with the eruption of the 28 million year old Bursum caldera located northwest of Silver City. Caldera formation in the northern complex started near Socorro about 32 million years ago and migrated toward the southwest.
The Mogollon-Datil volcanic field is part of a discontinuous belt of middle Cenozoic volcanism that runs from the Sierra Madre Oriental in central Mexico, through the Trans-Pecos volcanic field in west Texas, and northward to the San Juan volcanic field in southwestern Colorado (Figure 2).
Extension began in this region about 36 million years ago, creating normal faults and distinct mountain blocks with intervening sediment -filled valleys. The extensional faults trend north-south on the east side of the field, northeast on the northwest side of the field, and northwest on the southwest side of the field.
The Chino (Santa Rita) and Tyrone mines near Silver City on the southwest side of the volcanic field are in mineralized, older plutons that are 55-70 million years old. The copper that was dispersed throughout the plutons was concentrated by weathering when these rocks were eroded and brought to the surface prior to the eruption of the younger 24 to 40 million year old volcanic rocks. The younger volcanic rocks covered the concentrated copper mineralization, protecting it from removal by erosion.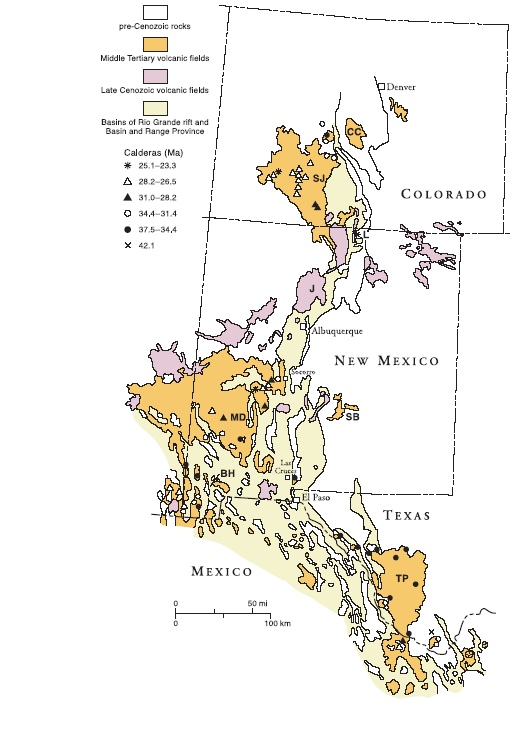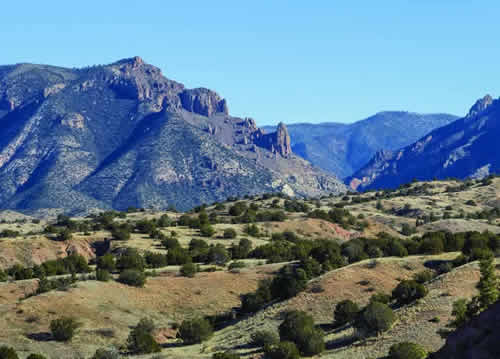 References
Chapin, C.E.,  Wilks, M. and McIntosh, W.C., 2004, Space-time patterns of Late Cretaceous to present magmatism in New Mexico—comparison with Andean volcanism and potential for future volcanism:New Mexico Bureau of Geology and Mineral Resources Bulletin 160, p. 13-40.
Elston, W. E., 1976, Tectonic significance of mid-Tertiary volcanism in the Basin and Range province—a critical review with special reference to New Mexico; in Elston, W. E., and Northrop, S. A. (eds.), Cenozoic volcanism in southwestern New Mexico: New Mexico Geological Society, Special Publication 5, pp. 93–102.
McIntosh, W.C., Chapin, C.E., Ratte, J.C., and Sutter, J.F., 1992, Time-stratigraphic framework for the Eocene-Oligocene Mogollon-Datil volcanic field, southwest New Mexico: Geological Society of America Bulletin, v. 104, p. 851-817
Ratte, J.C., Cather, S,M., Chapin, C.E., Duffield, W.A., Elston, W.E., and Mcintosh, W.C., 1989, Excursion 6A: Eocene-Miocene Mogollon-Datil volcanic field, New Mexico: New Mexico Bureau of Mines and Mineral Resources Memoir 46, p. 43-120.