Featured Products
The New Mexico Bureau of Geology and Mineral Resources has published geoscience research and information since its inception in 1927. The bookstore at our main office on the campus of New Mexico Tech in Socorro sells our publications as well as publications from NMGS, USGS, and many other publishers. Our bookstore is accross the hall from our Mineral Museum, which is well worth a visit.
Below is a selection of popular featured products that we currently have available:
Valles Caldera mug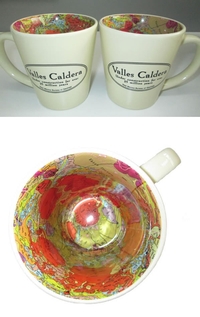 The interior of this mug has a reproduction of our Geologic Map of the Valles Caldera. The caldera once was filled by a lake, but you can fill it with coffee, tea, or whatever else satisfies your inner volcanologist.
Mineral Museum postcards: The Fluorites of New Mexico (set of 8)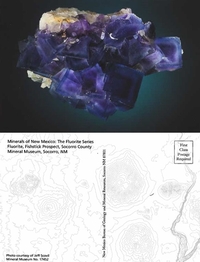 By: Jeff Scovil
This set of 8 postcards highlight flourites found throughout New Mexico. Each variety was photographed by Jeff Scovil. Send these back to your mineral collecting friends when you are on your next rock hounding adventure.
Enclosed in a cardstock case.
Bulletin-165 — Quaternary and Archaeological Geology of the Mescalero Plain, Southeastern New Mexico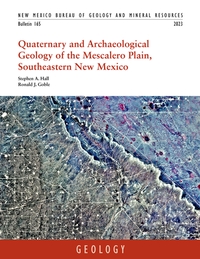 By: Stephen A. Hall and Ronald J. Goble, 2023
This bulletin synthesizes 177 optically stimulated luminescence (OSL) and 54 radiocarbon dates, as well as detailed sediment size and chemical signature data, to document the history of eolian sand deposition during the late Pleistocene and Holocene in southeastern New Mexico. The authors use this history, which is based on 20 years of field observations, to assess the preservation potential of archeological sites in this area. The bulletin is richly illustrated with photographs and figures that clearly tell the story of unearthing discoveries that were previously hidden beneath the shifting sands of southeastern New Mexico.
216 pages
https://doi.org/10.58799/B-165

CD or DVD-ROM format
Memoir-50 — Energy and Mineral Resources of New Mexico: Boxed Set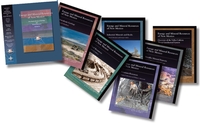 By: see individual volumes, 2017
This boxed set of six volumes provides the most comprehensive and extensive review of New Mexico's energy and mineral resources to-date. Each volume focuses on the geologic nature of the resource, the history of the resource development in New Mexico, and their importance to the world and New Mexico's economy. Written by New Mexico's own experts in the fields, this set covers energy resources of petroleum, natural gas, coal, uranium, and geothermal, along with the resources of metals and industrial minerals and rocks.
This memoir is published jointly by the New Mexico Bureau of Geology & Mineral Resources and the New Mexico Geological Society.
Energy and Mineral Resources of New Mexico, NMBGMR, Memoir 50 and NMGS Special Publication 13 (six-volume boxed set)
A: Petroleum Geology — Ronald F. Broadhead
B: Coal Resources — Gretchen K. Hoffman
C: Uranium Resources — Virginia T. McLemore and William L. Chenoweth
D: Metallic Mineral Deposits — Virginia T. McLemore and Virgil W. Lueth
E: Industrial Minerals and Rocks — Virginia T. McLemore and George S. Austin
F: Overview of the Valles Caldera (Baca) Geothermal System — Fraser Goff and Cathy J. Goff
564 pages
ISBN: 978-1-883905-43-9
Boxed set, Volumes A-F
Guidebook-72 — Socorro Region III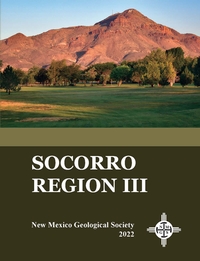 By: Daniel J. Koning, Kevin J. Hobbs, Fred M. Phillips, W. John Nelson, Steven M. Cather, Anne C. Jakle, and Brittney Van Der Werff, 2022
Beautifully exposed geologic features in the Socorro region exemplify important events in the geologic history of central New Mexico. The relative ease of access to these intriguing features from the town of Socorro justifies a third NMGS visit to this area. The 2022 Fall Field Conference will showcase new mapping, geochronology, and other geologic studies that have occurred in the Socorro region since the 1983 Fall Field Conference. The array of rocks seen here include Proterozoic crystalline rocks, a relatively complete Pennsylvanian-Permian section, Oligocene volcanic rocks, Santa Fe Group deposits from all phases of rifting, and a complete set of post–Santa Fe Group, Quaternary terraces. Fault-propagation and fault-bend folds associated with the Laramide orogeny, in addition to rift-related domino-block tilting and half-grabens, are also nicely exposed in the Socorro area. This volume includes detailed road logs of the Socorro area, including the Little San Pascual Mountains. Twenty-one peer-reviewed, technical papers and seven minipapers present recent research of this important region.
There are two versions of this guidebook available, the complete guidebook (426 pages), and a version with just the road logs that is spiral bound (146 pages).
NMGS, 426 pages
ISBN: 1-58546-115-6
https://doi.org/10.56577/FFC-72
Valles Caldera Earrings (round)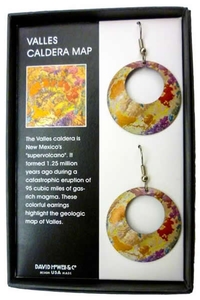 Produced by David Howell & Co., these earrings depict parts of the Geologic Map of the Valles Caldera. The caldera formed during two volcanic super-eruptions that took place 1.6 and 1.2 million years ago. With these earrings, more recent verbal eruptions that you encounter can go in one ear and out the other.
Resource Map-24 — Mining Districts and Prospect Areas in New Mexico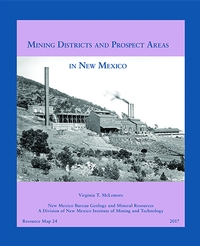 By: Virginia T. McLemore, 2017
This Resource Map locates and describes 246 mining areas in New Mexico (excluding coal fields). The included booklet begins with a brief description of the history of mining in New Mexico and is followed by discussions of previous work, mining claims, the definition of a mining district, mining methods, and classification of mineral deposits. Short descriptions of individual mining districts and prospect areas in New Mexico are in Appendix 1. Appendix 2 includes metal production from selected districts. Appendix 3 is a summary of previous mining districts maps. This report updates File and Northrop (1966), Howard (1967), and Mardirosian (1971), the last comprehensive summaries of all mining districts in New Mexico.
65 pages, One map sheet: 24" x 28"
Supplemental data: Repository-20170001
ISBN: 9781883905361
The Geology of Southern NM Parks, Monuments, and Public Lands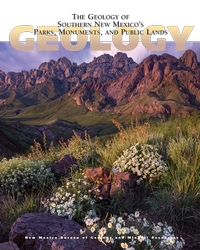 By: Peter A. Scholle, Dana S. Ulmer-Scholle, Steven M. Cather, and Shari A. Kelley, [eds.], 2020
Southern New Mexico has a wonderful combination of spectacular scenery and a sparse population. The state's diverse and interesting geology is reflected in its numerous National and State parks and monuments (including Carlsbad Caverns and White Sands) as well as other publicly accessible lands, which range in size from the multi-million acre Gila wilderness to small roadside turnoffs and picnic areas. This book, crafted by geoscientists but written for the interested public, provides an understanding of the exposed rock units that record more than 1.7 billion years of geologic and biologic changes in this region. With nearly 400 full-color photographs, geologic maps, and illustrations, this book illuminates not just the rocks and fossils of southern New Mexico, but also archaeological/historical sites as well as the water, mineral, and energy resources of the region.
Free sample chapter — White Sands
404 pages
ISBN: 978-1-883905-48-4
NM Bureau of Geology Mineral Museum Gray Adjustable Souvenir Hat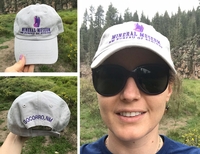 By: New Mexico Bureau of Geology and Mineral Resources, 2019
Look great and support the New Mexico Bureau of Geology's Mineral Museum with this fun, stylish hat! Order yours today! *FREE SHIPPING*-LIMITED TIME ONLY! Cart will indicate shipping but you will not be charged!
Adjustable gray cap with purple embroidered front and back lettering and image.
2023 Calendar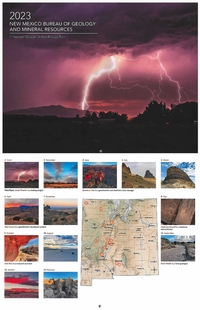 By: NMBGMR, 2023
This calendar highlights photographs from the fine amateur photographers on staff at the New Mexico Bureau of Geology. We hold an internal contest every year, and the winning images are used for our calendar. These images were taken throughout the state, and most are geologically themed.