Healy Collaborative Groundwater Monitoring Network
The Aquifer Mapping Program is actively expanding the Healy Collaborative Groundwater Monitoring Network for New Mexico. Our primary focus is rural and under-monitored regions throughout the state. Our public groundwater level data is meant to benefit all water users — especially mutual domestic water systems, private domestic well owners, and water management decision-makers.
Groundwater data is essential for tracking changes and making informed decisions about water management. Data can be accessed on our Interactive Map.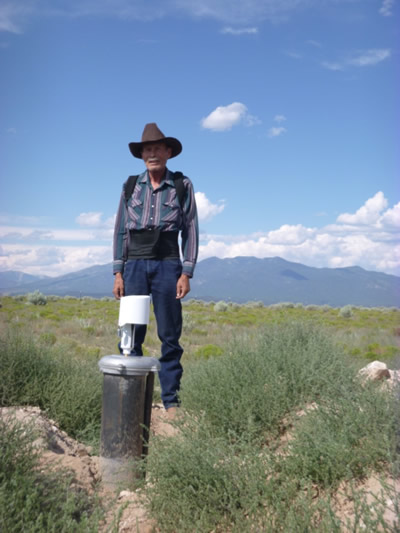 Mr. Torres of Taos, NM knows what the depth to water is at his well. He makes informed pumping and irrigation decisions. Do you?
Knowing the depth to groundwater below the land surface is valuable information! You can use it to:
Monitor how much water is in your well
Track water level trends over time
Make pumping decisions
Protect and manage associated source water
Apply for funding for your water system
Identify influences on your water supply like local water use
Identify faulty equipment and leaks
... and MORE! But in all cases, you need the data!
Want to get involved? Participation is FREE!
Data sharing is available to well owners, water systems, and small monitoring networks that are willing and able to collect accurate water levels and would like to provide those measurements to the Network.
Well sharing is available to wells in high priority areas. The NMBGMR can equip suitable wells with continuous monitoring devices or measure groundwater levels manually on an annual basis.
Download a PDF of our program flyer.
Contact us to see if your well can be added to our monitoring network.
nmbg-waterlevels@nmt.edu
---
This work is funded by the Healy Foundation, and implemented by the Aquifer Mapping Program at the New Mexico Bureau of Geology and Mineral Resources (NMBGMR).