New Mexico's Geologic Mapping Program
"Mapping out New Mexico's Future"


Our goal
To provide up to date, state of the art, earth science data necessary to make informed decisions about our states natural resources and environment.
Progress to date
Since 1993, the New Mexico Bureau of Geology and Mineral Resources' Geologic Mapping Program participates in the USGS STATEMAP Program, part of the National Cooperative Mapping Act (last renewed by the U.S. Congress in 2009).  To date New Mexico is a leader in funding our mapping activities in the state and we continue to improve our map products to better address societal needs.  Much of our mapping effort is focused on the Rio Grande watershed where detailed mapping most benefits our population centers. However, our program is now branching out to other important regions and watersheds of our state including the southern Pecos River, Tularosa basin, southern Gila Mountains, Grants basin and San Juan basin.
Funding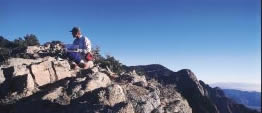 Our mapping program has been strong since it began in 1993, consistently ranking as a top state survey in awarded funds. Our program is partly funded by the STATEMAP component of the National Cooperative Geologic Mapping Program and matched by Bureau of Geology and other state funds.  This allows us to maximize funding resources to conduct geologic mapping in the state.  After two decades of mapping in this program, we have mapped more of the state than the previous 66 years of Bureau of Geology mapping in the state, a testament to the importance of this national program to the state of New Mexico. We are now in the 21st year of an aggressive program designed to rapidly produce and distribute state-of-the-art digital geologic maps. By July 2013, we will have mapped 238 quadrangles (approximately 14,280 sq. miles) in 22 counties and all three congressional districts.
Future plans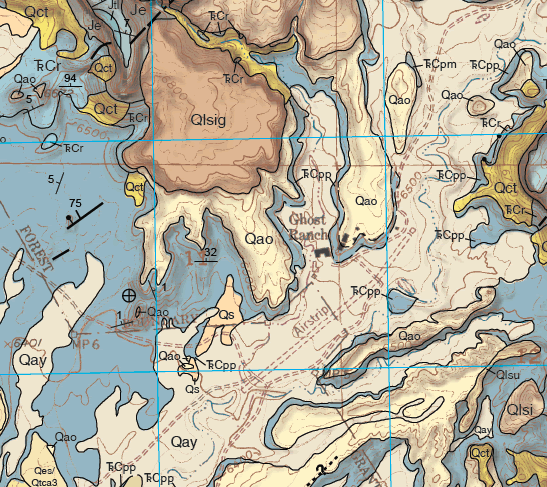 We intend to continue to produce societally relevant geologic maps in areas of urban growth and in critical watersheds.
Program Summary
Modern digital geologic maps are essential for New Mexico's environmental and economic prosperity. Geologic maps are uniquely suited to solving problems involving Earth resources, hazards, and environments, and perhaps most importantly for the people of New Mexico, such maps help identify and protect ground-water aquifers, aid in locating water-supply wells, and are fundamental for all environmental studies and land-use plans.
Of the 121,598 sq miles of New Mexico, about 35% is mapped at the standard scale of 1:24,000 (1 inch=2000 feet). The most critical area is the populated zone along the Rio Grande watershed from the Colorado border to Elephant Butte Reservoir, which contains 50% of the state's population on 4% of its land area. Rapid population growth, shallow alluvial aquifers, large topographic relief, and the alternating scarcity and abundance of precipitation, give rise to a host of hydrologic and engineering problems.
NM State Geologic Mapping Advisory Committee (SMAC)
Much of the success of STATEMAP is due to the requirement that maps must be designed to address critical societal and scientific problems. Our program receives widespread support and acclaim from political leaders, government agency scientists, university professors, hydrologists, engineers, planners, attorneys, and citizens. The program is cooperative in the broadest sense, as mapping priorities are set annually by the ~40-member NM State Geologic Mapping Advisory Committee consisting of professionals from state, local, federal, tribal, and private agencies.
Map Purchases
Preliminary drafts and final STATEMAP 7.5-minute quadrangles are posted on our Open-File Geologic Mapping home page in PDF format for free download when mapping is completed.  GIS data may also be available for many of these map products either by download or contacting us (below). For quadrangle availability, mapping progress, and published quadrangles please visit the Open-file Geologic Map (OF-GM) page, or contact the mapping program team.
If a paper copy of a map is needed and a 36" plotter is not available, most reprographic shops can easily plot these PDF files and may even download them for you. We will also plot these maps on demand and charge a fixed rate of $40 per 36"x50" sheet and $70 for two sheets (most maps are one 36"x50" sheet). Contact our publications office for sales.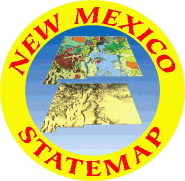 For More Information Contact