Raman Microscopy Laboratory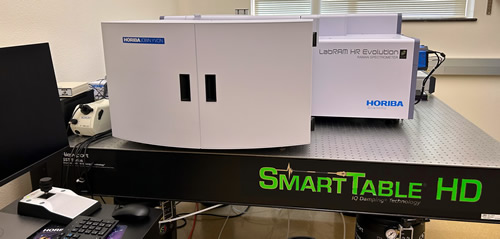 Our NSF-MRI-funded confocal Raman Spectroscopy Laboratory provides spectral analyses of solid, liquid, and gaseous compounds. Raman spectroscopy provides a characteristic fingerprint of a mineral, solid material, gaseous or liquid compound that can be used for compound identification and/or characterization. Raman spectroscopy is a non-destructive method and therefore suitable for a broad type of samples as it can analyze powders, individual grains, minerals in rock or gem samples, thin and thick sections as well as liquids and gases. We are also able to provide 2-D and 3-D chemical mapping at the μ-scale ideally on planar surfaces of polished slabs or thin sections.
MRI Grant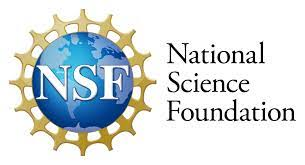 The Raman Spectroscopy laboratory is supported by an National Scienc Foundation grant (NSF-MRI EAR-2117061) that written by a multi-disciplinary team: Dr. Hurtig (EES, Geochemistry), Dr. Kalugin (MTLS, Material Science), Dr. Gysi (NMGB-EES, Economic Geology), Dr. Jones (EES, Geobiology) and Dr. Rubasinghege (CHEM, Environmental Chemistry).This grant enabled the acquisition of a high-resolution confocal Raman microscope with capabilities to perform liquid and solid experiments. Raman Spectroscopy is a non- destructive analytical technique, that can provide detailed information about chemical structure, composition, crystallinity, and molecular interactions in solids and liquids, thus finding broad applications in geologic, life and material sciences. The strategic mission of this project is to build a collaborative Raman spectroscopy laboratory with experimental capabilities, which aims to: 1) strengthen interdisciplinary research at the New Mexico Institute of Mining and Technology (NMT), 2) foster external collaborations, and 3) promote the education mission of NMT. Research from this new Raman facility supports four early career faculty and is used to solve problems directly relevant to society through research in economic geology and petroleum sciences as well as material, environmental, human health, and life sciences.