The Rio Grande
A River Guide to the Geology and Landscapes of
Northern New Mexico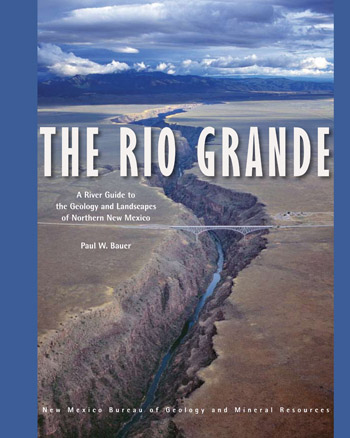 By: Paul W. Bauer, 2011 (3rd printing, 2022)
The Rio Grande is the fourth longest river in North America. Flowing nearly 2,000 miles from Colorado to the Gulf of Mexico, in New Mexico it occupies the Rio Grande Valley, where it provides water for habitat, agriculture, and a growing population. In northern New Mexico, where the river has carved a pair of spectacular canyons, the Rio Grande also provides some of the most exceptional recreation opportunities and scenery in North America. This comprehensive, spiral bound, waterproof, 122-page river guide provides detailed, full-color maps of 153 miles of the Rio Grande, from Lasauses, Colorado to Cochiti Dam in New Mexico. Divided into eleven river stretches—including the popular whitewater runs in the Taos Box, Racecourse, and White Rock Canyon—the guide covers stretches that range in difficulty from placid canoe tours to gripping kayak descents. The river maps are developed on an aerial photographic base (digital orthophoto quads), allowing the user to more easily identify locations.
The geology of the region is likewise exceptional. The river spills from the San Juan Mountains into the Rio Grande rift, where several million years of erosive action have exposed a geologic cornucopia, including three major volcanic fields (including the Jemez supervolcano), seismically active faults, extinct Pleistocene lakes, and ancient rocks of the Rocky Mountains. The guide uses non-technical language and lavish illustrations to interpret the evolution of this magnificent landscape.
Although the focus of the guide is on geology and landscape, the guide is packed with information and photos on geography, hydrology, climate, boating safety, river management, rock art, and much more. Providing detailed information on access and trails, history and landscape, railroads and mining, this guide is also an invaluable resource for hikers, anglers, cyclists, day trippers, historians, philosophers, and casual visitors.
Minor updates were made to text and figures for reprinting in 2022.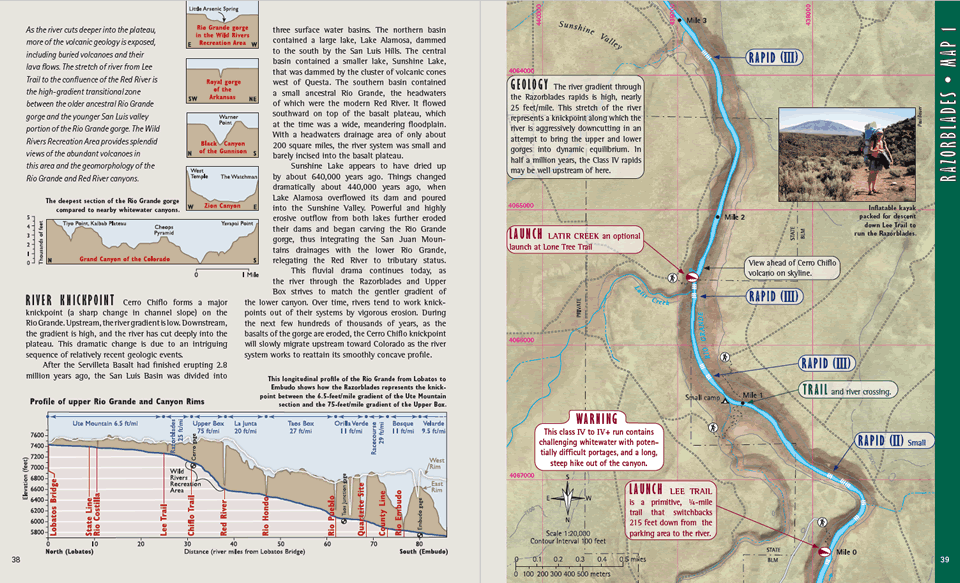 Comments about this river guide:

---
Winner of the 2011 National Outdoor Book Award for: Outdoor Adventure Guidebook.
This colorful and remarkably well done guide, covering 153 miles of the Rio Grande, is packed full of information for flatwater and whitewater paddlers. But it's not just for river runners. Hikers, anglers and cyclists will also find it invaluable in their trips to Rio Grande country. The maps are first rate. They were developed from an aerial photo base and use a blend of colors and shaded relief to make the river topography stand out. The geological information, both textual and illustrative, is some of the best the judges have seen in a river guide
—National Outdoor Book Award

Paul Bauer and his collaborators have raised the bar for field guides of all kinds. This is a gorgeous and rich piece of book-making. I was equally fascinated by the thoughtful text and the beautiful, informative images. Bauer's guide makes me want to rush out and explore still more of the enchanting Rio Arriba.
—William deBuys, award-winning writer and conservationist

Running lots of western rivers has given me a big collection of guidebooks. Bauer's Rio Grande Guide is the best of the lot. If they gave Pulitzer Prizes for guidebooks, this would be the winner for 2011.
—Steve Harris, owner of Far Flung Adventures and Executive Director of Rio Grande Restoration