NMGS Publications
Fall Field Conference Guidebooks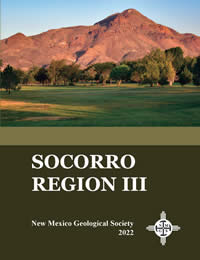 Since 1950, the New Mexico Geological Society has held an annual Fall Field Conference that visits some region of New Mexico (or surrounding states). Always well attended, these confereces provide a guidebook to participants. Besides detailed road logs, the guidebooks contain many well written, edited, and peer-reviewed papers. These books set the national standard for geologic guidebooks and are an important reference for anyone working in or around New Mexico.
Most guidebooks are available in softcover only while some are available in hardcover only. Since 2007 (starting with Guidebook #58), spiral-bound roadlog-only versions of the guidebooks are also available.
We have entered into a formal agreement with the New Mexico Geological Society to distribute their publications from our offices and website. You may also purchase a complete set of all NMGS publications at a significant discount.
Use the links below to view the guidebook contents.
Recent Guidebooks
Some publications, including those that are out-of-print, are only available for purchase on CD or DVD-ROM

.
| Stock# | Title | Price / Details |
| --- | --- | --- |
| FFC-73 | Evaporite Karst of the Lower Pecos Region, Land, Lewis; Bou Jaoude, Issam; Hutchinson, Peter; Zeigler, Kate; Jakle, Anne; Van Der Werff, Brittney, [eds.], 2023, 152 pages, NMGS, ISBN: 1-58546-117-2. | $65.00Buy Now |
| FFC-73 | Evaporite Karst of the Lower Pecos Region - Road Logs, Land, Lewis; Bou Jaoude, Issam; Hutchinson, Peter; Zeigler, Kate; Jakle, Anne; Van Der Werff, Brittney, [eds.], 2023, 76 pages, NMGS, ISBN: 1-58546-118-0. (Spiral Bound, contains road logs only) | $19.95Buy Now |
| FFC-72 | Socorro Region III, Koning, Daniel J.; Hobbs, Kevin J.; Phillips, Fred M.; Nelson, W. John; Cather, Steven M.; Jakle, Anne C.; Van Der Werff, Brittney, 2022, 426 pages, NMGS, ISBN: 1-58546-115-6. | $65.00Buy Now |
| FFC-72 | Socorro Region III (Roadlogs), Koning, Daniel J.; Hobbs, Kevin J.; Phillips, Fred M.; Nelson, W. John; Cather, Steven M.; Jakle, Anne C.; Van Der Werff, Brittney, 2022, 146 pages, NMGS, ISBN: 1-58546-116-4. (Contains road logs and mini-papers only, spiral bound.) | $19.95Buy Now |
| FFC-71 | Geology of the Mount Taylor area, Frey, Bonnie A.; Kelley, Shari A.; Zeigler, Kate E.; McLemore, Virginia T.; Goff, Fraser; Ulmer-Scholle, Dana S., 2021, 310 pages, NMGS, ISBN: 1-58546-112-1. | $65.00Buy Now |
| FFC-71 | Geology of the Mt. Taylor area, Frey, Bonnie A.; Kelley, Shari A.; Zeigler, Kate E.; McLemore, Virginia T.; Goff, Fraser; Ulmer-Scholle, Dana S., 2021, 94 pages, NMGS, ISBN: ISBN: 1-58546-113-X. (Contains road logs and mini-papers only, spiral bound.) | $19.95Buy Now |
| FFC-70 | Geology of the Raton-Clayton Area, Ramos, Frank; Zimmerer, Matthew J.; Zeigler, Kate; Ulmer-Scholle, Dana, 2019, 168 pages, NMGS, ISBN: 1-58546-110-5. | $65.00Buy Now |
| FFC-70 | Geology of the Raton-Clayton Area (Road Logs), Ramos, Frank; Zimmerer, Matthew J.; Zeigler, Kate; Ulmer-Scholle, Dana, 2019, NMGS. (Contains road logs and mini-papers only, spiral bound.) | $19.95Buy Now |
| FFC-69 | Las Cruces Country III, Mack, Greg H.; Hampton, Brian A.; Ramos, Frank C.; Witcher, James C.; Ulmer-Scholle, Dana S., 2018, 218 pages, NMGS, ISBN: 1-58546-108-3. | $65.00Buy Now |
| FFC-69 | Las Cruces Country III, Mack, Greg H.; Hampton, Brian A.; Ramos, Frank C.; Witcher, James C.; Ulmer-Scholle, Dana S., 2018, 68 pages, NMGS, ISBN: 1-58546-109-1. (Contains road logs and mini-papers only, spiral bound.) | $19.95Buy Now |