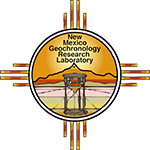 For questions concerning sample submittal, data access or other activities related to the NMGRL, please feel free to contact us in one of the following ways:
Address
New Mexico Bureau of Geology & Mineral Resources
Attn: Argon Lab
801 Leroy Place
Socorro, NM 87801
TEL:
(575) 835-5217
Sample Submittal
Please do not send samples without first consulting with a member of the NMGRL staff (see below). Samples will not be analyzed until we have the required metadata.
Please supply the following Sample Metadata:
Sample Name, Project Name, Approximate Age, Locale, Latitude, Longitude, Datum
Example:
FCT5, NewFluxMonitor, La Garita Caldera, ~30Ma, 37.614822, -106.698506, WGS-84
If the exact Latitude and Longitude are not know an approximate location will suffice. Any additional metadata is always welcome, such as Elevation, Lithology, Stratigraphic unit, etc.
Staff