General Interest Books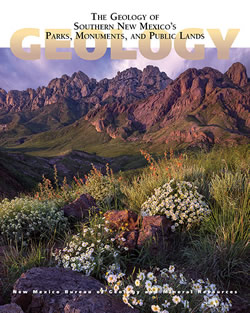 Several of our books are geared towards a non-technical (but geologically inclined) audience. We also carry some general interest books from other publishers. You may want to examine some of our Field Guides as well.
Some general interest series and books that are particularly popular are:
A series of guidebooks to various geologically interesting regions in and around New Mexico.
Field guides prepared to inform decision makers about topical earth science issues in New Mexico.
A field guide to geologically interesting features on public lands in New Mexico.
Some publications, including those that are out-of-print, are only available for purchase on CD or DVD-ROM

.
Stock#
Title
Price / Details
Geologic Road Log-Railroad
Geologic Road Log: Cumbres & Toltec Scenic Railroad, Kelly, Shari; Barkmann, Peter; Benson, Rob; Lovekin, Jonathan; Dunn, Lisa, 2023, 36 pages, ISBN: 978-1-883905-51-4.
$9.00Buy Now
NMParks-Northern
Geology of Northern New Mexico's Parks, Monuments, and Public Lands, Price, L. Greer, [ed.], 2010, 372 pages, ISBN: 9781883905255. (Third revised reprinting)
$29.95Buy Now
NMParks-Southern
The Geology of Southern NM Parks, Monuments, and Public Lands, Scholle, Peter A.; Ulmer-Scholle, Dana S.; Cather, Steven M.; Kelley, Shari A., [eds.], 2020, 404 pages, ISBN: 978-1-883905-48-4.
$29.95Buy Now
rc_guide (CHAMA)
The Rio Chama: A River Guide to the Geology and Landscapes, Bauer, Paul W.; Zimmerer, Matthew; Timmons, J. Michael; Felix, Brigitte; Harris, Steve, 2021, 134 pages, ISBN: 978-1-883905-32-3.
$18.95Buy Now
rg_guide (RIO GRANDE)
The Rio Grande: A River Guide to the Geology and Landscapes of Northern New Mexico, Bauer, Paul W., 2011, 120 pages, ISBN: 978-1-883905-28-6, (Reprinted 2022).
$23.00Buy Now
DM-2001
Water, Watersheds, and Land Use in New Mexico: Impacts of Population Growth on Natural Resources - Santa Fe Region, Johnson, Peggy S. (editor), 2001, 160 pages, ISBN: 9781883905087.
[

Out-of-print, available on disc

]
$10.00Buy Now

(CD or DVD)

DM-2002
New Mexico's Energy, Present and Future -- Policy, Production, Economics, and the Environment, Decision-Makers Field Guide 2002, San Juan Basin, Brian S. Brister, L. Greer Price (editors), 2002, 152 pages, ISBN: 9781883905125.
$15.00Buy Now
DM-2003
Water Resources of the Lower Pecos Region, New Mexico-Science, Policy, and a Look to the Future - Decision Makes Field Guide 2003, Johnson, Peggy S. ; Land, Lewis A.; Price, L. Greer; Titus, Frank, [eds.], 2003, 145 pages, ISBN: 9781883905170.
DM-2005
Mining in New Mexico - The Environment, Water, Economics, and Sustainable Development -Decision Makers Field Guide 2005, Price, L. Greer; Bland, Douglas; McLemore, Virginia T.; Barker, James M., [eds.], 2005, 168 pages, ISBN: 9781883905222.
DM-2007
Water Resources of the Middle Rio Grande: San Acacia to Elephant Butte, Price, L. Greer, Johnson, Peggy S., Bland, Douglas, [ed.], 2007, 139 pages, ISBN: 9781883905248.
$15.00Buy Now
DM-2009
Water, Natural Resources, and the Urban Landscape: The Albuquerque Region, Price, L. Greer, Bland, Douglas, Johnson, Peggy S., Connell, Sean D., 2009, 152 pages, ISBN: 9781883905279. Map: Drainage facilities of Albuquerque area
$15.00Buy Now
IS-1
Our Water Resources: An overview for New Mexicans, Stone, W. J., 2001, 38 pages, ISBN: 9781883905071. (This publication is now somewhat dated but still provides much useful information. It is available for free from our bookstores.)
$5.00Buy Now
ST-1
Santa Fe, Baldwin, Brewster and Kottlowski, Frank E., 1968, 2nd Edition, 58 pages.
[

Out-of-print, available on disc

]
$10.00Buy Now

(CD or DVD)

ST-2
The Enchanted Circle: Loop Drives from Taos, Bauer, P. W.; Love, J. C.; Schilling, J. H.; Taggart, J. E., Jr., 1991, 5th Edition, 137 pages.
[

Out-of-print, available on disc

]
$10.00Buy Now

(CD or DVD)

ST-3
Roswell-Ruidoso-Valley of Fires, including trips to Lincoln, Tularosa, and Bottomless State Park, Allen, J. E.; Kottlowski, F. E., 1958, 3rd Edition, 96 pages.
[

Out-of-print, available on disc

]
$10.00Buy Now

(CD or DVD)

ST-4
Southern Zuni Mountains, Zuni-Cibola Trail, Foster, R. W., 1971, 3rd Edition, 75 pages.
$10.00Buy Now
ST-5
Silver City - Santa Rita - Hurley, New Mexico, Schilling, John H., 1959, 43 pages.
[

Out-of-print, available on disc

]
$10.00Buy Now

(CD or DVD)

ST-6
Trail Guide to the Geology of the Upper Pecos, Sutherland, P. K.; Montgomery, A., 1975, 3rd Edition, 114 pages.
$7.50Buy Now
ST-7
High Plains, Northeastern New Mexico. Raton-Capulin Mountain-Clayton, Muehlberger, William R.; Baldwin, Brewster; Foster, Roy W., 1965, 3rd Edition. (Superseded by Scenic Trip 19)
[

Out-of-print, available on disc

]
$10.00Buy Now

(CD or DVD)

ST-8
Mosaic of New Mexico's Scenery, Rocks, and History, Christiansen, Paige W.; Kottlowski, Frank E., [eds.], 1972, 3rd Edition, 170 pages.
[

Out-of-print, available on disc

]
$10.00Buy Now

(CD or DVD)

ST-9
Albuquerque: Its Mountains, Valley, Water, and Volcanoes, Kelley, Vincent C., 1982, 3rd Edition.
[

Out-of-print, available on disc

]
$10.00Buy Now

(CD or DVD)

ST-10
Southwestern New Mexico, Clemons, R. E.; Christiansen, P. W.; James, H. L., 1980, 2nd Edition, 119 pages, ISBN: 9781883905057. (Incorporates Scenic Trip 5)
$10.00Buy Now
ST-11
Cumbres and Toltec Scenic Railroad, James, H. L., 1972, 73 pages.
$4.50Buy Now

Limited availability!

ST-12
The Story of Mining in New Mexico, Christiansen, Paige W., 1974.
[

Out-of-print, available on disc

]
$10.00Buy Now

(CD or DVD)

ST-13
Espanola-Chama-Taos: A Climb through Time, Muehlberger, William R.; Muehlberger, Sally, 1982.
[

Out-of-print, available on disc

]
$10.00Buy Now

(CD or DVD)

ST-14
The Story of Oil in New Mexico, Christiansen, P. W., 1989, 112 pages.
$6.00Buy Now
ST-15
A Trip through Space and Time--Las Cruces to Cloudcroft, Clemons, R. E., 1996, 194 pages.
$12.95Buy Now
ST-16
Elephant Butte Eastern Black Range Region--Journeys from Desert Lakes to Mountain Ghost Towns, Lozinsky. R. P.; Harrison, R. W.; Lekson, S. H., 1995, 171 pages.
$9.25Buy Now
ST-17
Albuquerque Downtown from a Geologic Point of View - A Walking Tour of the City Center, Austin, George S., 1998, 60 pages, ISBN: 978-1883905026.
$8.50Buy Now
ST-18
Albuquerque - A Guide to Its Geology and Culture, Bauer, Paul W.; Lozinsky, Richard P.;Condie, Carol J.;Price, L. Greer, 2003, 182 pages, ISBN: 9781883905149.
$14.95Buy Now
ST-19
High Plains of Northeastern New Mexico, Muehlberger, William R.; Muehlberger, Sally J.; Price, L. Greer, 2005, 103 pages, ISBN: 9781883905206.
$14.95Buy Now
SP-15
A History of the Geology Program at New Mexico State University: 1890 to 2015, Thomas H. Giordano, 2022, 45 pages, NMGS, ISBN: 1-58546-114-8, [Printed on demand].
$20.00Buy Now