Recent Publications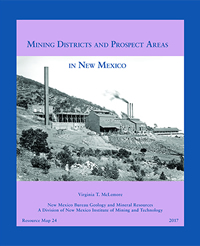 By Virginia T. McLemore, 2017
This Resource Map locates and describes 246 mining areas in New Mexico (excluding coal fields). The included booklet begins with a brief description of the history of mining in New Mexico and is followed by discussions of previous work, mining claims, the definition of a mining district, mining methods, and classification of mineral deposits. Short descriptions of individual mining districts and prospect areas in New Mexico are in Appendix 1. Appendix 2 includes metal production from selected districts. Appendix 3 is a summary of previous mining districts maps. This report updates File and Northrop (1966), Howard (1967), and Mardirosian (1971), the last comprehensive summaries of all mining districts in New Mexico.
One map sheet: 24" x 28", scale 1:1,000,000
Booklet: 65 p.
Supplementary Data:
Appendices and GIS data for this map are available in data repository 20170001.
ISBN: 9781883905361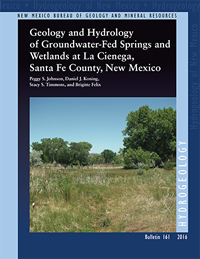 By Peggy S. Johnson, Daniel J. Koning, Stacy S. Timmons, and Brigitte Felix, 2016
La Cienega's springs and wetlands are important hydrologic, ecologic and cultural resources, and provide many beneficial water-related functions. The wetlands discharge groundwater from regional and local aquifers that provide the sole water source for the southern Santa Fe region. We investigate the wetland system by examining the hydrologic interactions manifested in the wetland water balance. This investigation addresses all aspects of the wetland system, including:
The links between geology, groundwater flow, and wetland location
Groundwater conditions surrounding the wetlands
Chemical, isotopic and age indicators of water sources for the wetlands
The effects of climate variability on streamflow and groundwater levels
Wetland evapotranspiration
Groundwater depletion and water-level declines
The various data are integrated into a physical, conceptual model of wetland hydrogeology, which can support and enhance wetland conservation plans. To be successful in their objectives, hydrologic models and wetland management plans must incorporate the hydrogeologic features that create and maintain the wetlands.
This publication won the AASG/GSA John C. Frye Memorial Environmental Geology Award for 2016.
Supplemental Data available from our Data Repository:
http://geoinfo.nmt.edu/repository/index.cfml?rid=20160001
ISBN: 978-1-883905-33-0

CD or DVD-ROM format

Also available as a free download.
By Fraser Goff, Jamie N. Gardner, Steven L. Reneau, Shari A. Kelley, Kirt A. Kempter, and John R. Lawrence, 2011
30-page text, 1 sheet, lat. approximately from 35°47'00" to 36°02'00", long. approximately from 106°22'30" to 106°41'00", scale 1:50,000, 3 cross sections.
The Valles caldera, located in the heart of the Jemez Mountains in north-central New Mexico, is the world's premier example of a resurgent caldera, a giant circular volcano with an uplifted central floor and a near-perfect ring of roughly 15 postcaldera lava dome and flow eruptions.
This new Valles caldera map and cross sections represent the cumulative research efforts of countless geologists over the past 40 years, and several state and federal agencies. GM–79 compiles detailed geologic mapping completed in the past eight years from parts of the nine 7.5-min USGS topographic quadrangles that encompass the caldera. More than 150 map units are described in detail. Also incorporated are new geochronologic data and recent refinements to nomenclature.
There is also a bandana version of this geologic map available.
ISBN: 9781883905293
One folded sheet + 30 page booklet
$23.95
Buy Now
This price includes $5.00 extra shipping.
One 46 inch square map + 30 page booklet
By Paul W. Bauer, 2011
The Rio Grande is the fourth longest river in North America. Flowing nearly 2,000 miles from Colorado to the Gulf of Mexico, in New Mexico it occupies the Rio Grande Valley, where it provides water for habitat, agriculture, and a growing population. In northern New Mexico, where the river has carved a pair of spectacular canyons, the Rio Grande also provides some of the most exceptional recreation opportunities and scenery in North America. This comprehensive, spiral bound, waterproof, 122-page river guide provides detailed, full-color maps of 153 miles of the Rio Grande, from Lasauses, Colorado to Cochiti Dam in New Mexico. Divided into eleven river stretches—including the popular whitewater runs in the Taos Box, Racecourse, and White Rock Canyon—the guide covers stretches that range in difficulty from placid canoe tours to gripping kayak descents. The river maps are developed on an aerial photographic base (digital orthophoto quads), allowing the user to more easily identify locations.
The geology of the region is likewise exceptional. The river spills from the San Juan Mountains into the Rio Grande rift, where several million years of erosive action have exposed a geologic cornucopia, including three major volcanic fields (including the Jemez supervolcano), seismically active faults, extinct Pleistocene lakes, and ancient rocks of the Rocky Mountains. The guide uses non-technical language and lavish illustrations to interpret the evolution of this magnificent landscape.
Although the focus of the guide is on geology and landscape, the guide is packed with information and photos on geography, hydrology, climate, boating safety, river management, rock art, and much more. Providing detailed information on access and trails, history and landscape, railroads and mining, this guide is also an invaluable resource for hikers, anglers, cyclists, day trippers, historians, philosophers, and casual visitors.
ISBN: 978-1-883905-28-6
L. Greer Price, editor, 2010
This volume provides a comprehensive overview of the basic geology of the public lands of northern New Mexico. Developed specifically for a broad audience, this introduction includes 49 chapters on the most popular and spectacular public lands in the northern part of the state. Lavishly illustrated in full color, with close to 300 photos' maps' and illustrations, it's a perfect guide for the roadside geologist and anyone wanting to know more about what's underfoot in northern New Mexico. 380 pages. Chapters are divided into five parts:
The Colorado Plateau
The Jemez Mountains and the Valles Caldera
The Rio Grande Rift
The Southern Rocky Mountains
The Great Plains
ISBN: 9781883905255