New Mexico's Enchanting Landscapes
New Mexico is often called the "Land of Enchantment", in large part because of our spectacular scenery. We also have a tremendous variety of landscapes, from very arid deserts to rugged snow-covered mountains carved by glaciers, and everything in between.
A long an varied geologic history, high altitude, and arid climate have made New Mexico an especially interesting place to see geological relationships. Many geology field camps from throughout the country and the world come to New Mexico to study great exposures of rocks representing nearly every kind of geological process.
The diversity and beauty of New Mexico's landscapes is a significant natural resource that attracts tourists, inspires artists, and improves our quality of life. Get out and explore, there is enough here to last a lifetime.
A Few Must-See Highlights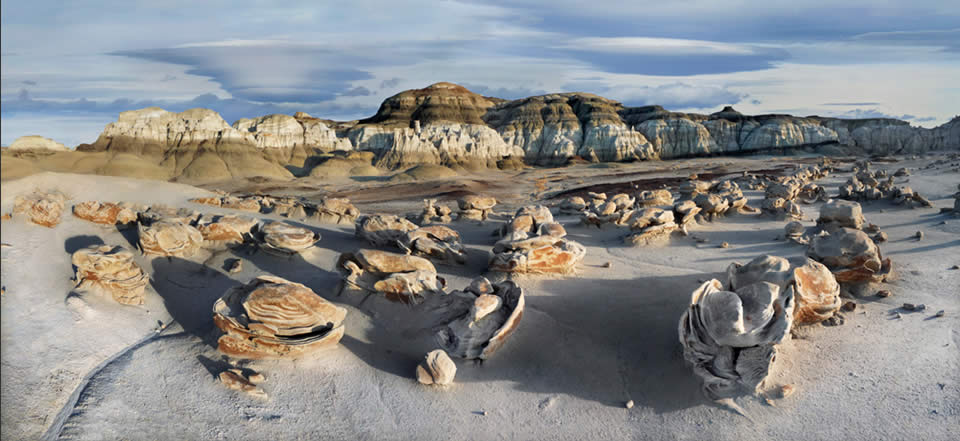 Rocks That Shape the Enchanting Landscape
Earth wears a mantle rich with lore,
Of storied fabric finely spun,
That tells of kingdoms come and gone,
Of legions lost and battles won.
No seer no monarch can divine,
The cryptic writings; he alone,
Who humbly speaks the tongue of earth,
Can find a story in a stone.
— Frank Kottlowski, 1964
in: Mosaic of New Mexico's Scenery, Rocks, and History
Scenic Trips to the Geologic Past, No. 8, P.W. Christiansen and F.E. Kottlowski (eds.)