Minerals & Mining-Related Publications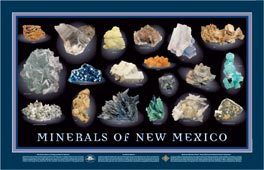 Below is a partial list of some of our publications that are particularly related to mining and mineral resources. Many of our publications address mineral resources and mining technology in and around New Mexico and this is by no means a comprehensive list. At the moment, this list represents publications that do not readily fit other categories. It will be updated and expanded, so view this page again later if this is a topic of interest to you. Some publications about uranium may be cross listed under publications related to energy.
There are 83 publications that meet these critera.
Displaying results: 1 - 50.
Some publications, including those that are out-of-print, are only available for purchase on CD or DVD-ROM

.
Stock#
Title
Price / Details
B-1
The Mineral Resources of New Mexico, Jones, F. A., 1915, 77 pages.
[

Out-of-print, available on disc

]
$10.00Buy Now

(CD or DVD)

B-2
Manganese in New Mexico, Wells, E. H., 1918, 85 pages.
[

Out-of-print, available on disc

]
$10.00Buy Now

(CD or DVD)

B-4
Fluorspar in New Mexico, Johnston, W. D., Jr, 1928, 128 pages.
[

Out-of-print, available on disc

]
$10.00Buy Now

(CD or DVD)

B-8
The Ore deposits of Socorro County, New Mexico, Lasky, S. G., 1932, 139 pages, (Reprinted 1983).
[

Out-of-print, available on disc

]
$10.00Buy Now

(CD or DVD)

B-10
The Geology and Ore Deposits of Sierra County, New Mexico, Harley, G. T., 1934, 220 pages, (Reprinted 1989).
[

Out-of-print, available on disc

]
$10.00Buy Now

(CD or DVD)

B-11
The geology of the Organ Mountains with an account of the geology and mineral resources of Dona Ana County, New Mexico, Dunham, Kingsley C., 1935, 272 pages. (PDF of entire bulletin including Part III)
[

Out-of-print, available on disc

]
$10.00Buy Now

(CD or DVD)

B-12
The Non-Metallic Mineral Resources of New Mexico and Their Economic Features, Sterling B. Talmage, Thomas P. Wootton, 1937, 162 pages.
[

Out-of-print, available on disc

]
$10.00Buy Now

(CD or DVD)

B-15
The Geology and Ore Deposits of Northeastern New Mexico (exclusive of Colfax County), Harley, G. T., 1940, 102 pages.
[

Out-of-print, available on disc

]
$10.00Buy Now

(CD or DVD)

B-16
Mining, Oil, and Mineral Laws of New Mexico, Fowler, C. H.; Talmage, S. B., 1941, 251 pages. (supersedes Bulletin 6)
[

Out-of-print, available on disc

]
$10.00Buy Now

(CD or DVD)

B-19
Manganiferous Iron-Ore Deposits Near Silver City, Entwistle, L. P., 1944, 70 pages.
[

Out-of-print, available on disc

]
$10.00Buy Now

(CD or DVD)

B-21
Fluorspar Resources of New Mexico, Rothrock, H. E., Johnson, C. H., and Hahn, A. D., 1946, 265 pages.
[

Out-of-print, available on disc

]
$10.00Buy Now

(CD or DVD)

B-27
Contributions of New Mexico's Mineral Industry to World War II, T. D. Benjovsky, 1947, 76 pages.
[

Out-of-print, available on disc

]

(CD or DVD)

B-36
Mineral Resources of Fort Defiance and Tohatchi Quadrangles, Arizona and New Mexico, Allen, J. E.; Balk, R., 1954, 192 pages.
$8.50Buy Now
B-38
Geology and Mineral Resources of Dwyer Quadrangle, Grant, Luna, and Sierra Counties, New Mexico, Elston, W. E., 1957, 86 pages.
$8.50Buy Now
B-39
The Metal Resources of New Mexico and Their Economic Features through 1954, Anderson, Eugene C., 1957, 183 pages.
[

Out-of-print, available on disc

]
$10.00Buy Now

(CD or DVD)

B-44
Mineral Resources of the Navajo Reservation in New Mexico (Exclusive of Uranium, Coal, Oil, Gas, and Water), Allen, J. E., 1955.
$3.75Buy Now
B-46
Topical Study of Lead-Zinc Gossans, Kelly, W. C., 1958, 80 pages.
$4.25Buy Now
B-47
Kyanite Occurrences in the Petaca District, Rio Arriba County, New Mexico, Corey, A. F., 1960, 70 pages.
$5.25Buy Now
B-51
Geology of the Questa Molybdenum Mine Area, Taos County, New Mexico, J. H. Schilling, 1956, 87 pages.
[

Out-of-print, available on disc

]
$10.00Buy Now

(CD or DVD)

B-56
Geology and Mineral Resources of Mesa del Oro Quadrangle, Socorro and Valencia [now Cibola] Counties, New Mexico, Jicha, H. L., Jr., 1958, 67 pages.
$7.00Buy Now
B-59
Wall-Rock Alteration in the Cochiti Mining District, New Mexico, Bundy, W. M., 1958, 71 pages.
$4.75Buy Now
B-65
Metallogenic Provinces of the Southwestern United States and Northern Mexico, C. W. Burnham, 1959, 76 pages.
[

Out-of-print, available on disc

]
$10.00Buy Now

(CD or DVD)

B-67
Mineral Deposits of Lincoln County, New Mexico, Griswold, G. B., 1959, 117 pages.
B-71
Mineral Resources of Taos County, New Mexico, Schilling, J. H., 1982, 124 pages.
$9.00Buy Now
B-72
Mineral Deposits of Luna County, New Mexico, Griswold, G. B., 1984, 157 pages.
$14.75Buy Now
B-76
Molybdenum Resources of New Mexico, Schilling, J. H., 1965, 76 pages.
$7.00Buy Now
B-81
Summary of the Mineral Resources of Bernalillo, Sandoval, and Santa Fe Counties, New Mexico (Exclusive of Oil and Gas), Elston, W. E., 1967, 81 pages.
$7.00Buy Now
B-86
Geology and Ore Deposits of the Sacramento (High Rolls) Mining District, Otero County, New Mexico, Jerome, S. E.; Campbell, D. D.; Wright, J. S.; Vitz, H. E., 1965, 30 pages.
$12.50Buy Now
B-87
Mineral and Water Resources of New Mexico, See synopsis, 1965, 437 pages, (Reprinted 1982).
[

Out-of-print, available on disc

]
$12.00Buy Now

(CD or DVD)

B-94
Geology and Ore Deposits of Eagle Nest area, New Mexico, K. F. Clark and C. B. Read, 1972, 152 pages.
[

Out-of-print, available on disc

]
$10.00Buy Now

(CD or DVD)

B-95
Geology and Mineral Deposits of the Gallinas Mountains, Lincoln and Torrance Counties, New Mexico, Perhac, R. M., 1970, 51 pages.
[

Out-of-print, available on disc

]
$10.00Buy Now

(CD or DVD)

B-104
Laws and Regulations Governing Mineral Rights in New Mexico, Verity, V.H. and Young, R.J., 1971, 67 pages.
[

Out-of-print, available on disc

]
$10.00Buy Now

(CD or DVD)

B-1451
Mineral resources of the Gila Primitive Area and Gila Wilderness, New Mexico, Ratte, James C.; Gaskill, D. L.; Eaton, G. P.; Peterson, D. L.; Stotelmeyer, R. B.; Meeves, H. C., 1979, 229 pages, USGS.
$9.00
B-1734F
Mineral resources of the Sierra Ladrones Wilderness Study Area, Socorro County, New Mexico, Moore, Samuel L.; Allen, M. S.; Long, C. L.; Neubert, J. T., 1989, 21 pages, USGS.
$3.25
B-1734G
Mineral resources of the Rimrock, Sand Canyon, Little Rimrock, and Pinyon Wilderness Study Areas, Cibola County, New Mexico, Maxwell, Charles H.; Nowlan, Gary A.; Bankey, Viki; Hannigan, Brian J., 1989, 15 pages, USGS.
$3.00
B-1734H
Mineral resources of the Petaca Pinta Wilderness Study Area, Cibola County, New Mexico, Maxwell, Charles H.; Nowlan, Gary A.; Bankey, Viki; Hannigan, Brian J., 1989, 15 pages, USGS.
$1.75
B-1735E
Mineral resources of the Brokeoff Mountains Wilderness Study Area, Otero County, New Mexico, Moore, Samuel L.; Kleinkopf, M. Dean; Nowlan, Gary A.; Cooksey, Patricia A., 1989, 15 pages, USGS.
$2.75
B-1938
Coal Resources Of The Fruitland Formation in Part of the Ute Mountain Ute Indian Reservation, San Juan County, New Mexico, Robinson Roberts, L.N., 1938, 15 pages, USGS.
$3.75
C-2
Geology and Ore Deposits of the Ground Hog Mine, Central District, Grant County, New Mexico, Lasky, S. G., 1930, 14 pages.
[

Out-of-print, available on disc

]
$10.00Buy Now

(CD or DVD)

C-5
Gold Mining and Gold Deposits in New Mexico, Walker, E.; Wootton, H. T. P., 1932, 26 pages, (Reprinted 1970).
[

Out-of-print, available on disc

]
$10.00Buy Now

(CD or DVD)

C-18
Geology and ore deposits of Red River and Twining districts, Taos County, New Mexico, a preliminary report, Charles F. Park, Jr.; McKinlay, Philip F., 1948, 35 pages.
[

Out-of-print, available on disc

]
$10.00Buy Now

(CD or DVD)

C-54
Magnetite Taconite Rock in Precambrian Formations in Rio Arriba County, New Mexico, Bertholf, William E., II., 1960, 24 pages.
$2.50Buy Now
C-55
Some Sheelite Occurrences in the Magdalena Mining District of New Mexico, Austin, Carl F., 1960, 17 pages.
$2.50Buy Now
C-58
Economic Recovery of Selenium by Flotation from Sandstone Ores of New Mexico, Bhappu, Roshan B., 1961, 42 pages.
$2.50Buy Now
C-59
Glauconite in the Cambrian-Ordovician Bliss Formation near Silver City, New Mexico, Lewis, Douglas W., 1962, 30 pages.
$2.50Buy Now
C-68
Niobium-Bearing Sanostee Heavy Mineral Deposit, San Juan Basin, Northwestern New Mexico, Bingler, Edward C., 1963, 63 pages.
$4.00Buy Now

Limited availability!

C-81
Hydrometallurgical Recovery of Molybdenum from the Questa Mine, Bhappu, Roshan B.; Reynolds, Dexter H.; Roman, Ronald J., 1965, 24 pages.
$2.75Buy Now
C-82
Surface Properties of Silicate Minerals, Deju, Raul A.; Bhappu, Roshan B., 1965, 6 pages.
$2.50Buy Now
C-84
County, Township and Range Locations of New Mexico's Mining Districts, File, L.; Northrop, S. A., 1966, 66 pages, (Reprinted 1980).
$6.25Buy Now
C-85
Mercury Content of Stream Sediments - A Geochemical Survey of the Magdalena Mining District, New Mexico, Misaqi, F. Leo (Missaghi, Fazollah), 1966, 26 pages.
$4.00Buy Now