Recent & Active Research — Geochronology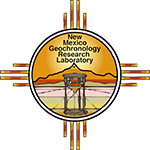 NMGRL is involved with a variety of research projects addressing volcanic hazards, climate change, plutonism, and uplift and tectonism (among many others). We are also deeply involved with development of technology for 40Ar/39Ar geochronology and noble gas mass spectrometers.
Use criteria in the form below to search by keyword, feature or region. Combining search criteria may provide few or no results.
The current and recent research projects shown below are listed in random order.
Dating the Sands of Time
A new dating method, being developed at the NMBG&MR, uses our state-of-the-art geochronology laboratory, funded by NSF and NM Tech, to determine the age of detrital sanidine (tiny volcanic minerals) from sediments.
New Mexico's Volcanic Hazards
New Mexico is home to many hundreds of volcanoes that erupted during the last several million years. However, the exact timing of these eruptions has proven difficult to determine by many previous studies. An ongoing NSF-funded project, led by NM Bureau of Geology researcher Matthew Zimmerer, examines the timing of eruptions during the last 500,000 years in order to understand the patterns of volcanism in space and time. This information provides the foundation for an assessment of volcanic hazards in New Mexico.
Lions and Tigers and Bears, Oh my!
Actually, its bacteria and elephants and monkeys and humans, oh my! Geochronology (the determination of a rock's age) has a wide variety of applications; one of which is placing absolute age constraints on evolution. The New Mexico Geochronology Research Laboratory mainly focuses on projects in New Mexico and the Southwestern USA. However, in a role that fulfills its broader commitment to the scientific community, projects are undertaken from throughout the world.