New Mexico Earth Matters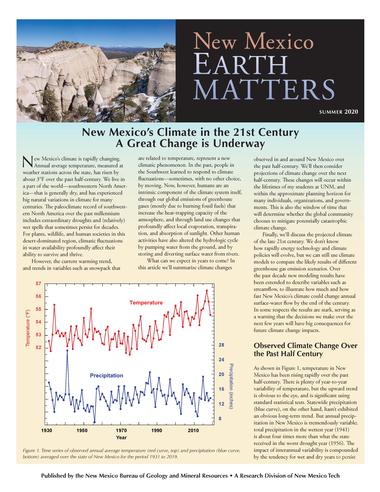 This publication is a semi-annual newsletter that is distributed free-of-charge to New Mexicans interested in the state's water, landscapes, and earth resources (back issues are available for free download as well). Each issue contains an informative article about an earth science topic of importance to our state,along with NM Bureau of Geology & Mineral Resources (Bureau) news and highlighted current or upcoming publications. We want this newsletter, along with our informative website, to stimulate your interest in what we do, and increase our interactions with people and agencies throughout the state. Our 60 employees, including 38 scientists, are eager to participate in earth science studies, collaborate in outreach activities, and respond to service requests from the New Mexico public. We look forward to putting our 83 years of experience to work serving your needs.
Earth Matters is a free publication and is available both in print and online in PDF format.