Geologic Map of New Mexico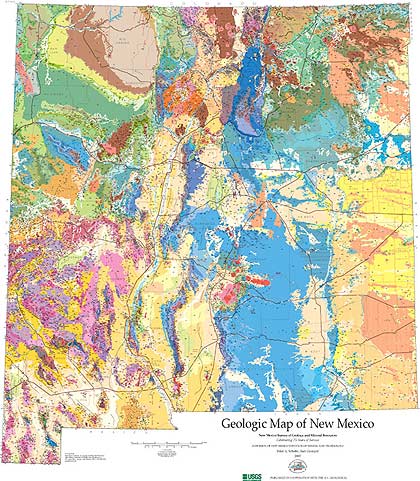 Two oversized sheets:
54" x 47" and 50" x 42"
This color state geologic map, published in July 2003, is the first geologic map of New Mexico to be published at this scale since 1965. Close to 20 years in the making, this map reflects the collective efforts of geologists from throughout the state. Over 100 geologic units are represented. Two sheets, including a detailed key and extensive references.
Please properly cite this map if using it in derivative work:
Geologic Map of New Mexico, New Mexico Bureau of Geology and Mineral Resources, 2003, Scale 1:500,000.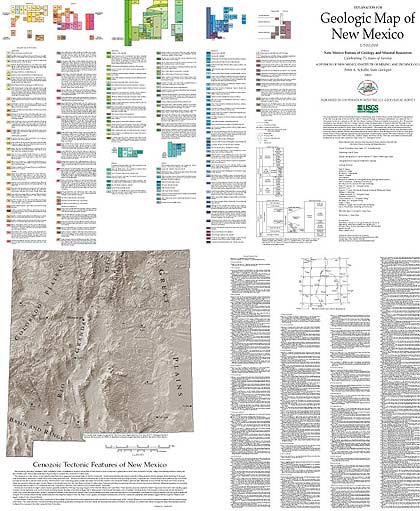 Purchase
Note: This large rolled map requires an additional charge of $5.00 for cardboard tube and shipping.
$20.00
Buy Now
This price includes $5.00 extra shipping.
Two oversized rolled sheets, 54" x 47" and 50" x 42" -- requires extra shipping

Also available as a free download.
Free Downloads
If you have a fast connection (these downloads will take a very long time via modem), you may want to download this map to preview it or to use it in your GIS:
Related Maps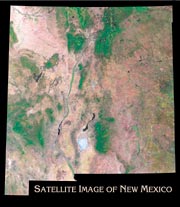 Our Satellite Image of New Mexico (Resource Map-23) makes a fine companion to this geologic map since it is at the same scale (1:500,000) and also has the same Lambert Conformal Conic projection. Significant geologic features and landmarks are annotated on the map.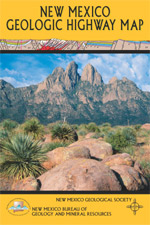 You may also be interested in the smaller (1:1,000.000) Geologic Highway Map of New Mexico produced in cooperation with the New Mexico Geological Society. It is printed on both sides of a single sheet of durable waterproof material and includes cross sections and stratigraphic columns.