Posters, Cards, & Calendars
We have several geologic maps, geologically themed posters, and cards available for purchase that are suitable for framing, lamination, and classroom use. Note cards and post cards are useful for many occasions. Our calendar features photography from our staff and will also look great on your wall.
calendar- — 2024 Calendar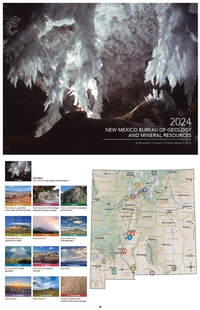 By: NMBGMR, 2024
This calendar highlights photographs from the fine amateur photographers on staff at the New Mexico Bureau of Geology. We hold an annual internal contest, and the winning images are used for our calendar. These images were taken throughout the state, and most are geologically themed.
NM Geologic Map Postcard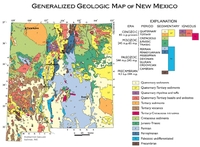 This postcard is a 5x7" generalized geologic map of New Mexico. You can highlight your geological explorations when you mail them to friends and colleagues.
Only available with another purchase.
State Geologic Map- — Geologic Map of New Mexico, 1:500,000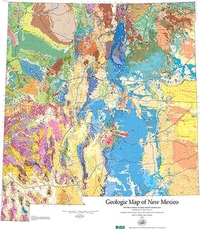 By: New Mexico Bureau of Geology and Mineral Resources, 2003
This full-color state geologic map, published in July 2003, is the first geologic map of New Mexico to be published at this scale since 1965. Almost 20 years in the making, this compilation represents the collective efforts of geologists from throughout the state. Over 100 geologic units are represented. Two sheets, including detailed key and references. May be rolled, or on CD-ROM, also may be downloaded for free. New Mexico Bureau of Geology and Mineral Resources, 2003, scale 1:500,000, 2 oversized sheets, 54" x 47" and 50" x 42".
ISBN: 9781883905163
https://doi.org/10.58799/116894
Two oversized rolled sheets, 54" x 47" and 50" x 42" -- requires extra shipping
Minerals of New Mexico Poster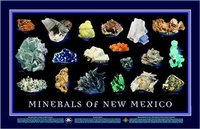 The nineteen mineral specimens featured on this poster offer a glimpse of some of the most beautiful minerals in New Mexico. Photographed by well-known photographer Jeff Scovil, specimens are from the collection of the Mineral Museum on the campus of New Mexico Tech in Socorro. The map includes a descriptive poster guide with it. Produced by the New Mexico Bureau of Geology and Mineral Resources in cooperation with the Mining and Minerals Division of New Mexico's Energy, Minerals and Natural Resources Department. Posters are rolled and mailed in a cardboard tube.
One sheet, 23" x 36"
Mineral Museum postcards: The Fluorites of New Mexico (set of 8)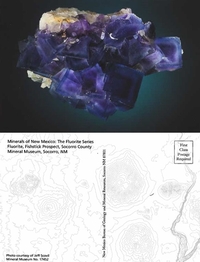 By: Jeff Scovil
This set of 8 postcards highlight flourites found throughout New Mexico. Each variety was photographed by Jeff Scovil. Send these back to your mineral collecting friends when you are on your next rock hounding adventure.
Enclosed in a cardstock case.
Resource Map-23 — Satellite Image of New Mexico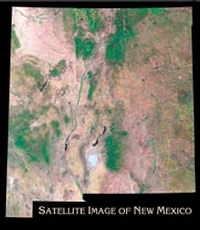 By: NMBGMR, 2000
This spectacular view of New Mexico from LANDSAT satellites orbiting the Earth is printed in shades of green, blue, and red for a natural-looking image. Residents of New Mexico will recognize many of the state's unique landforms: the fertile valleys of the Rio Grande and Pecos River, Mount Taylor, Valle Grande, Elephant Butte Reservoir, and the young lava flows near Grants and Carrizozo. These and many more less-distinctive features are labeled. Computer wallpaper samples are available. 2000, 47" x 54", scale 1:500,000
ISBN: 9781883905095
Rolled map 47" x 54" -- requires extra shipping.