Argon Open-File Reports (OF-AR)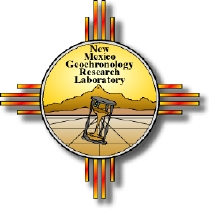 These reports are products of the New Mexico Geochronologic Research Laboratory and are open-filed as they become available. Generally, these reports are released as single PDF files (that require the free Adobe Acrobat Reader to view). However, some reports also include supplemental data as Excel spreadsheets (*.xls) which will require Microsoft Excel or other software that can read this format.
Some publications, including those that are out-of-print, are only available for purchase on CD or DVD-ROM

.
Stock#
Title
Price / Details
OF-AR-1
40Ar/39Ar Geochronology at the New Mexico Bureau of Geology and Mineral Resources, McIntosh, W.C.; Heizler, M.; Peters, L.; Esser, R., 2003, 10 pages, [CD/DVD-ROM on demand].
$10.00Buy Now

(CD or DVD)

OF-AR-4
40Ar/39Ar Analytical Data from the Juniper Mountain Volcanic Center, Owyhee County, Southwestern Idaho, McIntosh, W. C., 2003, 27 pages, [Printed on demand].
$10.00Buy Now
OF-AR-15
40Ar/39Ar Geochronology from Sierra Nevada Fault Project, Peters, L., 2003, 7 pages, [CD/DVD-ROM on demand].
$10.00Buy Now

(CD or DVD)

OF-AR-16
40Ar/39Ar Geochronology Results from Clasts from Late Cretaceous/Early Tertiary Units of the Caballo Mountians, New Mexico, Esser, R.; McIntosh, W. C., 2003, 22 pages, [CD/DVD-ROM on demand].
$10.00Buy Now

(CD or DVD)

OF-AR-17
40Ar/39Ar Geochronology Results from a Cinder Cone from the Cutter Quadrangle and from One Dike from the Alivio Quadrangle, New Mexico, Esser, R.; McIntosh, W. C., 2003, 9 pages, [CD/DVD-ROM on demand].
$10.00Buy Now

(CD or DVD)

OF-AR-18
40Ar/39Ar Geochronology Results from Volcanic Rocks from the Alborz Mountains, Iran, Esser, R.; McIntosh, W. C., 2003, 34 pages, [CD/DVD-ROM on demand].
$10.00Buy Now

(CD or DVD)

OF-AR-19
Geochronology Results from the Bay of Los Angeles, Baja, Mexico, Esser, R.; McIntosh, W.C., 2003, 27 pages, [CD/DVD-ROM on demand].
$10.00Buy Now

(CD or DVD)

OF-AR-20
Data Repository for 40Ar/39Ar Dating of the Eruptive History of Mount Erebus, Antarctica: Volcano Evolution, Esser, R. P.; Kyle, P. R.; McIntosh, W. C., 2003, 15 pages, [CD/DVD-ROM on demand].
$10.00Buy Now

(CD or DVD)

OF-AR-21
Data Repository for 40Ar/39Ar Dating of the Eruptive History of Mount Erebus, Antarctica: Summit Flows and Caldera Collapse, Harpel, C. J.; Kyle, P. R; Esser, R. P.; McIntosh, W. C.; Caldwell, D. A., 2003, 36 pages, [CD/DVD-ROM on demand].
$10.00Buy Now

(CD or DVD)

OF-AR-22
Data Repository for "Sour Gas" Hydrothermal Jarosite: Ancient to Modern Acid-Sulfate Mineralization in the Southern Rio Grande Rift, Lueth, V. W.; Rye, R. O.; Peters, L., 2004, 9 pages, [CD/DVD-ROM on demand].
$10.00Buy Now

(CD or DVD)

OF-AR-25
40Ar/39Ar Geochronology Results from Volcanic Rocks from Grand Falls, Arizona, Esser, R.; McIntosh, W. C., 2005, 18 pages, [CD/DVD-ROM on demand].
$10.00Buy Now

(CD or DVD)

OF-AR-26
40Ar/39Ar Age Constraints on the Duration of Resurgence at the Valles Caldera, New Mexico, Phillips, E. H.; Goff, F.; Kyle, R.; McIntosh, W. C.; Dunbar, N. W., 2006, 46 pages, [CD/DVD-ROM on demand].
$10.00Buy Now

(CD or DVD)

OF-AR-27
40Ar/39Ar Data Repository for the Geology, Geochronology, and Geochemistry of Basaltic Flows of the Cat Hills, Cat Mesa, Wind Mesa, Cerro Verde, and Mesita Negra, Central New Mexico, Maldonado, F.; Budahn, J. R.; Unruh, D. M.; Peters, L., 2006, 5 pages, [CD/DVD-ROM on demand].
$10.00Buy Now

(CD or DVD)

OF-AR-28
40Ar/39Ar Geochronology Results from the Upper Tesuque Formation in Northern Espanola Basin I, Peters, L., 2004, 19 pages, [CD/DVD-ROM on demand].
$10.00Buy Now

(CD or DVD)

OF-AR-29
40Ar/39Ar Geochronology Results from the Upper Tesuque Formation in Northern Espanola Basin II, Peters, L., 2007, 34 pages, [CD/DVD-ROM on demand].
$10.00Buy Now

(CD or DVD)

OF-AR-30
40Ar/39Ar Data Repository for Pliocene Volcanic Rocks of the Tschicoma Formation, East-Central Jemez Volcanic Field: Chemistry Petrography, and Age Constraints, Broxton, D.; Woldegabriel, G.; Peters, L.; Budahn, J.; Luedemann, G., 2007, 30 pages, [CD/DVD-ROM on demand].
$10.00Buy Now

(CD or DVD)

OF-AR-31
40Ar/39Ar Data Repository for Refinement of the Late Pleistocene to Holocene Geologic History of Erebus Volcano, Antarctica Using 40Ar/39Ar and 36 CI Age Determinations, Kelly, P.; Dunbar, N. W.; Kyle, P. R.; McIntosh, W. C., 2007, 4 pages, [CD/DVD-ROM on demand].
$10.00Buy Now

(CD or DVD)

OF-AR-34
40 Ar/39 AR Geochronology results from volcanic rocks McMurdo Sound area, Antartica, prepared by McIntosh, William C.; Esser, Richard P. for Paulsen, Tim; Wilson, Terry, 2007, 50 pages, [CD/DVD-ROM on demand].
$10.00Buy Now

(CD or DVD)

OF-AR-35
40Ar/39Ar Geochronology results from a Navajo Canyon dike in Mesa Verde National Park, Peters, Lisa, 2011, [CD/DVD-ROM on demand].
$10.00Buy Now

(CD or DVD)

OF-AR-36
40Ar/39Ar geochronology results from a Mancos Canyon dike in Mesa Verde National Park, Colorado, Peters, Lisa, 2011, 7 pages, [CD/DVD-ROM on demand].
$10.00Buy Now

(CD or DVD)