Rockin' Around New Mexico
An Annual Geologic Workshop for K-12 Teachers

Each summer, the New Mexico Bureau of Geology conducts a 3-day geology workshop for teachers. The workshop is based at a new location each year and includes hands-on sessions along with field trips to explore local geology. Topics include mineral resources and mining, environmental geology, paleontology, seismic hazards and mitigation, and school earthquake safety. An optional one-hour graduate credit through the Master of Science for Teachers program at New Mexico Tech is available. Enrollment fee for the workshop is $40. Curriculum materials and a few meals will be provided. Travel and lodging are paid up front by participants, with possible reimbursement through a yearly grant. Mark your calendar and join us this summer (teachers only, please!)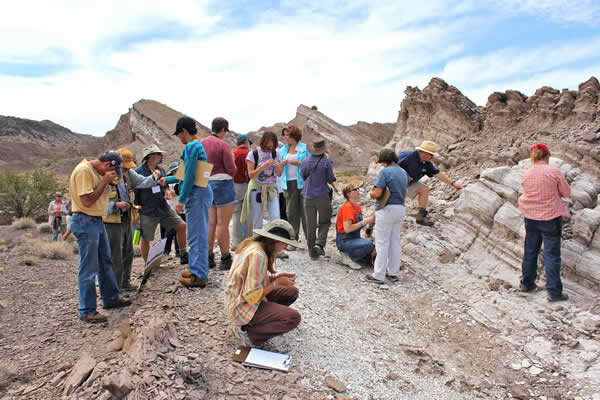 Regular sponsors for Rockin' Around New Mexico include the New Mexico Bureau of Geology, New Mexico Tech, New Mexico Department of Homeland Security and Emergency Management, New Mexico Mining Association, and the New Mexico Geological Society. Locations for some recent sessions are as follows:
Past Rockin' Workshops:
2022: San Juan Basin
2021: Virtual
2020: Virtual
2019: Socorro
2018: Truth or Consequences
2017: Socorro
2016: Las Vegas
2015: Socorro
2014: Silver City
2013: Socorro
2012: Jemez Springs
2011: Jemez Springs
2010: Socorro
Next Workshop:
Rockin' Around New Mexico — A Three-day Geology Workshop for K-12 Teachers
Socorro New Mexico, July 5-7, 2023
(with an optional Masters of Science for Teachers graduate credit through the DS-5810 course)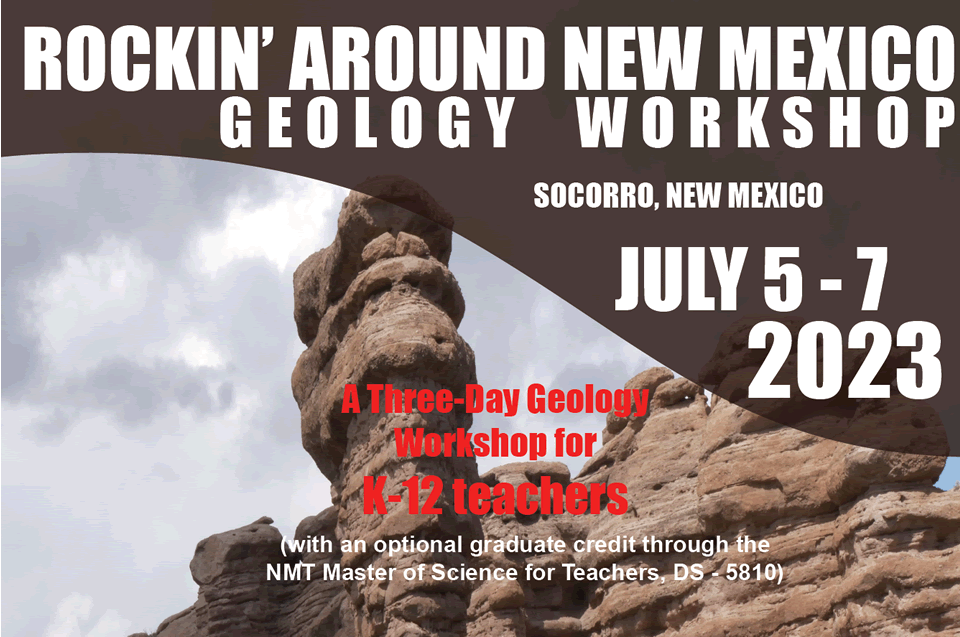 Rockin' is a workshop for certified, NM K–12 teachers who are interested in increasing their understanding of geoscience. This workshop can be taken for professional development or for New Mexico Tech Master's in Science Teaching graduate credit. This year, we will be based out of Socorro, NM and our focus will be on landforms and hazards associated with the Rio Grande Rift. Participants will explore the geology of the Rio Grande Rift, faulting, rare earth elements, regional seismicity—and the importance of preparation for geology-related hazards.
No previous geologic experience is necessary, but teachers should be able to walk one mile in arid conditions.
Graduate & Professional Development Credit
For information about taking DS-5810 Rockin' Around New Mexico as part of the Master of Science for Teachers program at New Mexico Tech, call Megha Khandelwal at (575) 835-5470,  megha.khandelwal@nmt.edu.
To register as professional development please fill out this form: https://forms.gle/YKGCtcWTRXMHxaj26 If you have questions contact: Cynthia Connolly at (575) 835-5264, cynthia.connolly@nmt.edu.
Reimbursement is available to New Mexico teachers for travel and lodging.