Rockin' Around New Mexico
An Annual Geologic Workshop for K-12 Teachers

Each summer, the New Mexico Bureau of Geology conducts a 3-day geology workshop for teachers. The workshop is based at a new location each year and includes hands-on sessions along with field trips to explore local geology. Topics include mineral resources and mining, environmental geology, paleontology, seismic hazards and mitigation, and school earthquake safety. An optional one-hour graduate credit through the Master of Science for Teachers program at New Mexico Tech is available. Enrollment fee for the workshop is $40. Curriculum materials and a few meals will be provided. Travel and lodging are paid up front by participants, with possible reimbursement through a yearly grant. Mark your calendar and join us this summer (teachers only, please!)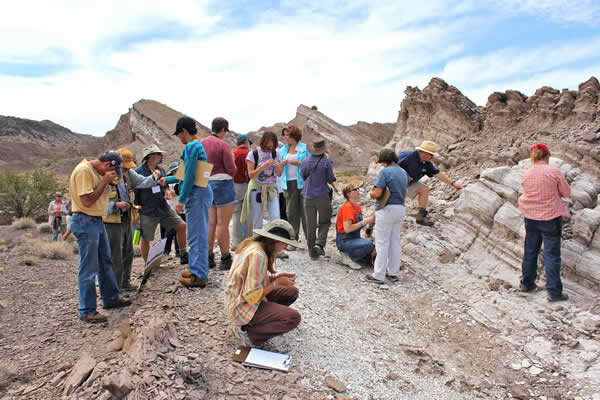 Regular sponsors for Rockin' Around New Mexico include the New Mexico Bureau of Geology, New Mexico Tech, New Mexico Department of Homeland Security and Emergency Management, New Mexico Mining Association, and the New Mexico Geological Society. Locations for some recent sessions are as follows:
Past Rockin' Workshops:
2019: Socorro
2018: Truth or Consequences
2017: Socorro
2016: Las Vegas
2015: Socorro
2014: Silver City
2013: Socorro
2012: Jemez Springs
2011: Jemez Springs
2010: Socorro
Next Rockin' Workshop
Rockin' Around New Mexico — Geology workshop for teachers (PDF flyer available)
(with an optional Masters of Science for Teachers graduate credit through the ST-540 course)
Española & Tusas Mountains, New Mexico
July 8-10, 2020
(Register Now)
We hope that this workshop will take place in July, but we may be forced to reschedule due to pandemic concerns.
The Rockin' Around New Mexico workshop is designed for K-12 teachers interested in expanding their knowledge of geoscience and geologic hazards. This year, we plan to base this workshop out of Española, NM. We will begin this workshop with a geologic overview presentation of the Española area. Via field trips and in-class activities, the workshop will then explore the following themes: (1) Faulting and earthquake hazards in the northern Rio Grande rift; (2) the source and processes for uranium occurrence in groundwater in the Española area; and (3) metamorphism of rocks and how the North American continent was built over a billion years ago. The details of the workshop activities are outlined below.
On day one, a fault zone in the Santa Fe Group, will be used to illustrate fault cores, damage zones, and cementation features. We will also discuss how faults could influence groundwater flow. Teachers can also view a uranium prospect in the bedrock and learn about how this vein-type uranium deposit formed. An ash bed will be used to talk about past volcanic activity and how volcanic ashes can be a source for uranium in the groundwater now.
On the second day we will travel to the Tusas Mountains. At Big Rock conglomerate in the Tusas Mountains we will study how sedimentary rocks become metamorphic rocks. Here, we will examine what happened to a gravel bed since it was deposited on the Earth's surface 1.8 billion years ago and how deep burial and various stresses under high temperatures and could be used to decipher what tectonic forces have occurred in the geologic past. Also discuss how those tectonic forces offer clues to how the North American continent was assembled.
Day three will consist of earthquake-related presentations, demos, and activities including a "Shake Out" earthquake practice drill. Dr. Dan Koning will describe current efforts to understand the earthquake activity of the faults near the Española basin, particularly near Los Alamos National Laboratories. Dr. Bruce Harrison will discuss earthquakes and recent volcanism in New Zealand and a speaker from the New Mexico Department of Homeland Security and Emergency Management (NMDHSEM) will convey the importance of preparing for earthquakes — especially for schools.
This workshop is open to educators who are actively teaching, and pre-service teachers. All participants must submit the NM Bureau of Geology registration form so we can keep you informed and help you plan for the workshop. Non-credit participants need to send the $40 fee for materials with the application. Participants receiving credit will have the $40 fee covered by the tuition/fees scholarship through the MST office, unless otherwise noted.
Participants are responsible for their own food and lodging during the workshop. They will then be reimbursed for per diem plus mileage (for those who drive more than 35 miles to the workshop) by NM Department of Homeland Security and Emergency Management. Only New Mexico teachers can apply for travel reimbursements.
Although graduate credit is optional, first priority for registration will be given to students at New Mexico Tech. The course is ST-540 Rockin' Around New Mexico. Call Megha Khandelwal at 575-835-5470 or email megha.khandelwal@nmt.edu if you would like information about the Masters of Science for Teachers Program at New Mexico Tech.
To register as a professional development class, or for more information, please contact:
Cynthia Connolly
- Rockin' Around New Mexico
New Mexico Bureau of Geology and Mineral Resources
New Mexico Tech
801 Leroy Place
Socorro NM 87801
phone: (575) 835-5264
e-mail: