Geologic Tour of the Southern High Plains
Tour site types: •State Parks •Federal Parks •Other Features
(Click map to hide/show the physiographic province overlay.)
Brief Description
The High Plains province covers the eastern 1/4th of the state of New Mexico. Mildly deformed Permian and Triassic sedimentary rocks capped by the late Miocene-Pliocene Ogallala Formation, an important aquifer, are exposed in the southeastern and east-central parts of the state. The northwest part of the Permian Basin, which is rich in oil and gas, underlies southeastern New Mexico.
The Raton Basin, a source of coal-bed methane, and the Raton-Clayton and Ocate volcanic fields are in northeastern New Mexico.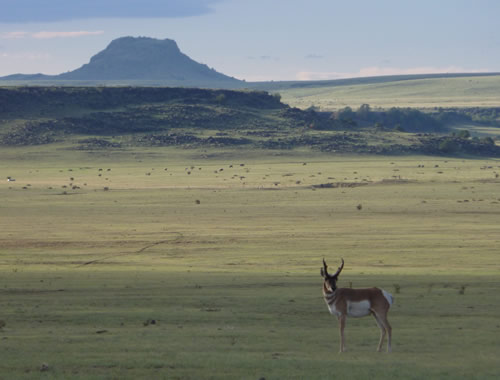 References
Land, L., Lueth, V.W., Raatz, W., Boston, P., Love, D.L., 2006, Caves and karst of southeastern New Mexico: New Mexico Geological Society Guidebook, 57th Fall Field Conference, 344 pp.
Lucas, S.G., and Ulmer-Scholle, D.S., 2001, Geology of the Llano Estacado: New Mexico Geological Society Guidebook, 52nd Fall Field Conference, 340 pp.
Muehlberger, W.R., Muehlberger, S.J., and Price, L.G, 2005, High Plains of northeastern New Mexico: a guide to geology and culture: New Mexico Bureau of Geology and Mineral Resources Scenic Trip 19, 102 pp.