New Mexico Mineral Symposium
Plan to attend the:
39thAnnual Symposium — November 10-11, 2018
Macey Center
New Mexico Institute of Mining & Technology
Socorro, New Mexico
A PDF version of this announcement is also available.
The New Mexico Mineral Symposium provides a forum for both professionals and amateurs interested in mineralogy. The meeting allows all to share their cumulative knowledge of mineral occurrences and provides stimulus for mineralogical studies and new mineral discoveries. In addition, the informal atmosphere encourages intimate discussions among all interested in mineralogy and associated fields.
This year's symposium will consist of a day and a half of formal papers presented in 30-minute time blocks. Papers will focus on mineral occurrences from New Mexico and adjacent states, as well as Mexico. A few selected papers may be presented from other parts of the world.
The Mineral Symposium is organized each year by the Mineral Museum at the New Mexico Bureau of Geology and Mineral Resources.
Sponsors this year include:
Albuquerque Gem and Mineral Club
Chaparral Rockhounds
Los Alamos Geological Society
Grant County Rolling Stones
Friends of Mineralogy
White Mountain Gem and Mineral Club
Friends of Minerology – Colorado Chapter
City of Socorro
Featured Speaker: Dr. Peter K.M. Megaw
The Santa Eulalia Mining District, Chihuahua, Mexico
Dr. Peter K.M. Megaw, Consulting Geologist President of IMDEX/ Cascabel and co-founder of Minera Cascabel and MAG Silver, has 40 years involvement in Mexican geology and is a frequent speaker at international academic and technical symposia. His Ph.D. work at the University of Arizona was an exploration-focused geological/ geochemical study of the Santa Eulalia Ag-Pb-Zn District, Chihuahua and Carbonate Replacement Deposits (CRDs) in general. He has published extensively on CRDs in geological and mineralogical journals and books. He and his team are credited with several significant discoveries for which Peter was awarded the Society of Mining Engineers 2012 Robert M. Dreyer Award for excellence in Applied Economic Geology and the 2017 Prospectors and Developers of Canada's Thayer Lindsley Award for significant international discoveries.
Peter has been a passionate mineral collector since first setting foot in Santa Eulalia in 1977. He moved to Tucson in 1979 and quickly joined the Tucson Gem and Mineral Society™, serving in most roles (except Treasurer) over the years. He took on the job of Exhibits Chair for the Tucson Show in 1984, a job he has kept for most of the last 34 years, giving him the opportunity to visit most of the world's major mineral museums with a special eye out for what they should bring to Tucson. A combination of the above led him to be awarded the Carnegie Mineralogical Award for 2009. Peter has published a number of award-winning papers in popular mineralogy publications. Peter's latest publication is the Jan-Feb, 2018 issue of Mineralogical Record, devoted to the Mineralogy of the Santa Eulalia District in Chihuahua Mexico.
Mineral Symposium Field Trip — Friday, November 9th, Chupadera Copper Mine
The Chupadera copper mine is located east of Socorro in the Quebrada s area. The mine is classified as a red bed copper deposit with azurite, malachite, and chalcocite the main ore minerals. Associated with the mineralization are some large calcite veins that display multi-colored fluorescence. In addition, orange, dog tooth crystals that fluoresce red have also been collected. A large variety of fossils can also be found in the area around the mine. Meet in the Macey Center parking lot at 9:00 a.m. for escort to the mine by Philip Simmons. The last portion of the access road is rough and 4WD vehicles are recommended. As the symposium date approaches contact philsim22@gmail.com for more information.
Friends of the Mineral Museum Reception — Friday, November 9th
A Friends of the Mineral Museum reception will be held at the museum on Friday, November 9th from 5-7 pm. An informal tailgating session will be held at local motels beginning on Friday and will last through the weekend.
Silent Auction — Sunday, November 11
A silent auction, sponsored by the Albuquerque Gem and Mineral Club for the benefit of the Mineral Museum, will be held on Sunday, November 11 from 9am-1pm. The auction will be open to the public, and all interested may buy or sell. All sellers pay a modest fee to the club to benefit the symposium and Mineral Museum. More information will be available at the symposium.
Registration
The general registration fee for the symposium is $40.00, and the fee for students is $20.00 (with student ID). Registration includes a copy of the abstracts, two continental breakfasts, and coffee breaks. A cocktail hour and dinner will be held on Saturday, November 10, 2018. A cash bar will be available. The cost for the dinner is $30.00 for adults, $10.00 for children (2-12 years old). A silent and live auction to benefit the symposium will conclude the evening's activities. The dinner and auction will be in the Fidel Center, Ballrooms A and B.
Pre-registration forms and online registration will be available about a month before the symposium.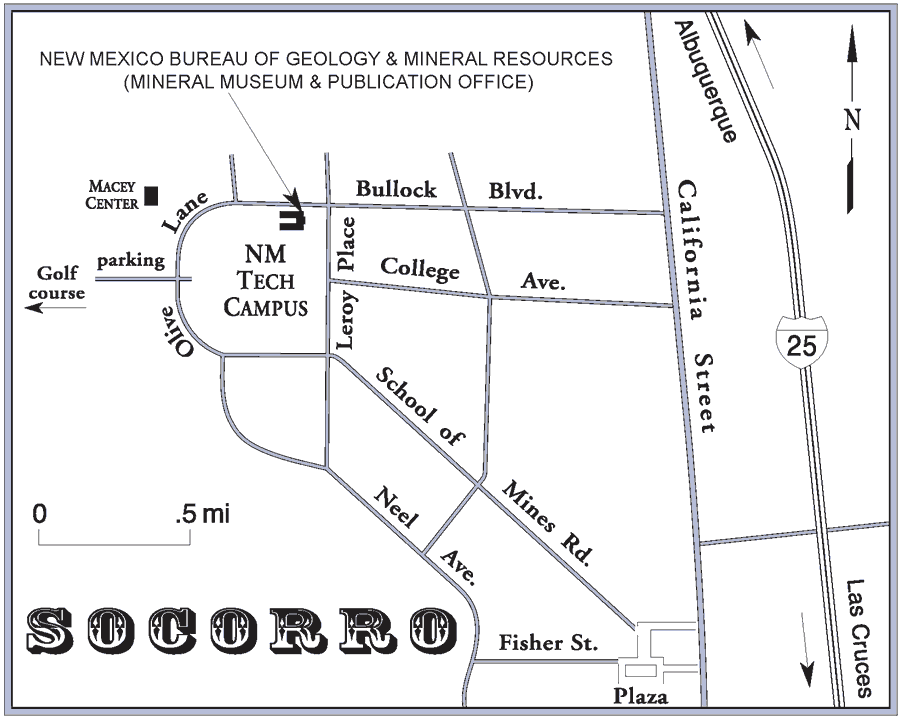 Schedule
Friday November 9, 2018
8:00 am to 5:00 pm: Field Trip to Chupadera Mine, Socorro County, N.M. — Philip Simmons, trip leader.
5:00 pm to 7:00 pm: Friends of the Museum Reception — Headen Center (Bureau of Geology) atrium. Appetizers and Cash Bar.
7:00 pm: Informal motel tailgating and social hour, individual rooms, Comfort Inn & Suites and other venues
Saturday November 10, 2018
8:00 am: Registration, Macey Center; continental breakfast
8:50: Opening remarks, main auditorium
9:00: "Electric Opal:" Mexico's Unique Daylight-luminescent Hyalite Opal — Peter Megaw
9:30: Collecting Geode Minerals in the American Midwest — Terry Huizing
10:00: Coffee and burrito break
11:00: Mineral and Gem Collecting in Indonesia: The Beginnings 1989-1995 — Mark I. Jacobson
11:30: New Discoveries at Copper Hill, Taos County, New Mexcio — Ramon S. De Mark, Thomas Katonak, and Jesse Kline
12:00 pm: Lunch & Museum Tour
2:00: Updated Mineral Lists; Atwood Hill area, Hidalgo County, New Mexico — Robert Walstrom
2:30: Minerals of the Torpedo-Bennett Fault Zone, Organ Mountains, Doña Ana County, New Mexico — Michael C. Michayluk
3:00: Coffee break
3:30: Capillitas Mine, Catamarca Province, Argentina, "The Other Rhodochrosite Locality" — David Stoudt
4:00: The Santa Eulalia Mining District, Chihuahua, Mexico — Peter K.M. Megaw (Featured Speaker)
5:30: Sarsaparilla and suds: cocktail hour, cash bar — Fidel Center Ballrooms
6:30: Silent auction and dinner followed by a voice auction to benefit the New Mexico Mineral Symposium — Fidel Center Ballrooms Sunday
November 11, 2018
9:00 am to 1:00 pm: Silent auction, lower lobby, Macey Center, sponsored by the Albuquerque Gem and Mineral Club for the benefit of the Mineral Museum (FREE)
8:00: am Morning social, coffee and donuts
8:50: Welcome to the second day of the symposium and follow-up remarks
9:00: Arizona Pseudomorphs and Epimorphs — Barbara Muntyan
9:30: The Role of Minerals in Arizona, from Prehistory to 1912 — Les Presmyk
10:00: Coffee break
10:30: "Micromineraleering" in the 79 — Ron Gibbs
11:00: Color Stability in Minerals — Virgil W. Lueth
11:30: Australopithecus to Mindat — Mineralogy Through the Ages — Nathalie N. Brandes and Paul T. Brandes
12:00: pm Lunch
Fieldtrip Photos
We have posted photographs of some prior symposium fieldtrips. If you have photographs you would like to share, please contact the webmaster.