Bulletin 134—Field excursions to the Jemez Mountains, New Mexico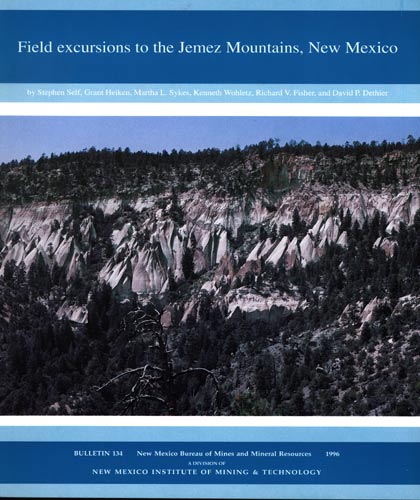 By S. Self, G. Heiken, M. L. Sykes, K. Wohletz, R. V. Fisher, and D. P. Dethier, 1996, 72 pp, 4 tables, 75 figs.
Companion to the set of Bulletin 131 and Memoirs 46 and 47. This bulletin has been compiled from the field guides for two complementary and somewhat unconventional trips offered as part of the International Association of Volcanology and Chemistry of the Earth's Interior (IAVCEI) General Assembly in Santa Fe, NM, in June 1989. One trip was to study the ignimbrites and calderas of the Jemez Mountains, NM, and the San Juan Mountains, Colorado. Only the NM part of the original Field Workshop Handbook has been rewritten and updated here for this publication. Some minor stop omissions, stop sequence changes, and simplifications from the original 11WA Workshop Handbook have been made in this version to improve the field guide's general appeal. A five-day trip in and around Valles caldera examines the 1.2–1.6 Ma Bandelier Tuffs and related pyroclastic deposits. A long one-day raft trip down the Rio Grande examines the maar volcanoes of White Rock Canyon. The material has been updated and rewritten for this bulletin and offers a detailed look at rift volcanism.
This field guide for White Rock Canyon was prepared for a day-long trip to look at maar volcanoes along the Rio Grande. It is an unusual trip in that travel is by rubber raft. There are no odometer readings or road signs: descriptions are linked to side canyons along the Rio Grande. This trip begins at Otowi Bridge along NM-4 or from Buckman Crossing, which is reached from Santa Fe. Most rafters continue through White Rock Canyon to the boat docks at Cochiti Reservoir, where the trip leaves the river. Plan for a very long day or a camp along the river at night. Several of the northern New Mexican rafting companies occasionally have float trips through White Rock Canyon.
Both trips present some degree of physical challenge, as the rafting and scaling of ignimbrite cliffs, while not requiring special preparation or equipment, are perhaps a little more demanding than usual field trip routes. Unless it is an exceptionally precipitation-free winter, snow and harsh weather conditions are likely to prevail between November and March at many of the stops in the multi-day field guide, and bad snow storms can close much of the area as late as May. Access for the geologist on foot and/or by vehicle in the Jemez Mountains, which encompass a patchwork of Indian lands, private tracts, Department of Energy land, and National Forest and National Monument areas, is ever changing. Virtually the whole of the center of the Valles caldera, including the resurgent block, is owned by the Baca Land and Cattle Company and has been off limits in recent years, especially to large groups. An exception is the forest access road to Sulfur Springs at the Springs area itself, which is again private land held by another individual, but permission to visit can usually be obtained by contacting the owner.

Also available as a free download.
Download
File Name
Size
Last Modified
B134.pdf
16.14

MB

01/15/2021 01:20:57 PM