Dr. Nels Iverson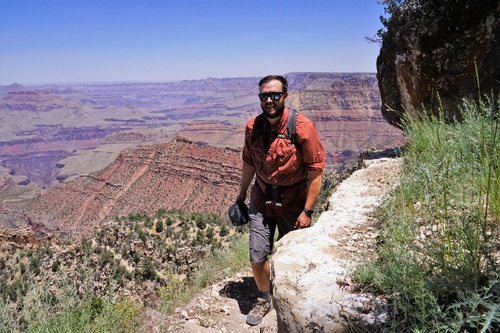 Research Scientist II
New Mexico Bureau of Geology & Mineral Resources
New Mexico Institute of Mining & Technology
801 Leroy Place
Socorro NM 87801-4796
575-835-5319
(575) 835-6333 fax
Education
Publications
(See Curriculum Vitae for more details)
Published:
1) Dunbar, N.W., Iverson, N.A., Van Eaton, E., Sigl, M. McConnell, J., Alloway, B., Wilson, C. 2017. New Zealand super-eruption provides time marker for Last Glacial Maximum in Antarctica. Scientific Reports, 7, 12238. doi: 10.1038/s41598-017-11758-0.
2) Iverson, N.A., Kalteyer, D., Dunbar, N.W., Kurbatov, A. and Yates, M., 2017a. Advancements and best practices for analysis and correlation of tephra and cryptotephra in ice. Quaternary Geochronology, 40: 45-55.
3) Iverson, N.A., Lieb-Lappen, R., Dunbar, N.W., Obbard, R., Kim, E., & Golden, E. 2017b. The first physical evidence of subglacial volcanism under the West Antarctic Ice Sheet. Scientific Reports, 7, 11457. doi.org/10.1038/s41598-017-11515-3
4) Iverson, N.A., Kyle, P.R., Dunbar, N.W., McIntosh, W.C., Pearce, N.J.G., 2014. Eruptive history and magmatic stability of Erebus volcano, Antarctica: Insights from englacial tephra. Geochemistry Geophysics Geosystems 15, 4180-4202.
Accepted:
5) Mi Jung Lee, Philip R. Kyle, Nels Iverson, Jong Ik Lee , and Yeongcheol Han. (2019). A major explosive eruption of Rittmann volcano, Antarctica as the source of the 1252±2 C.E. tephra layer in Antarctica ice. Accepted: Earth and Planetary Science Letters.
6) M. Schiller, W.W. Dickinson, N.A. Iverson and J. A. Baker. (2019). Characterization, emplacement and reevaluation of the Hart Ash: an important Pliocence stratigraphic marker, Wright Valley, Antarctica. Accepted: Antarctic Science.
In Review:
Laura H. Hartman, Andrei V. Kurbatov, Siwan M. Davies, Nelia W. Dunbar, T.J. Fudge, Nels A. Iverson, Dominic A. Winski, John Fegyveresi, and Martin G. Yates. (2019). SPICE Ice Core Cryptotephra Geochemistry Study of 1450's Kuwae Interval. Nature Geoscience