Dr. Nels Iverson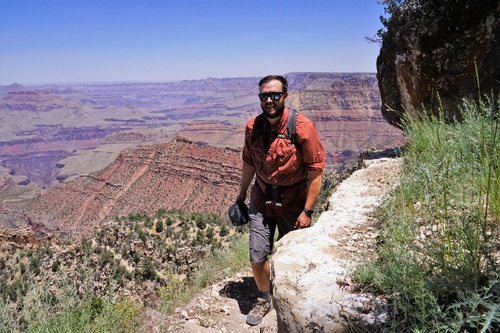 Geochemist-Microbeam Analyst
New Mexico Bureau of Geology & Mineral Resources
New Mexico Institute of Mining & Technology
801 Leroy Place
Socorro NM 87801-4796
575-835-5319
(575) 835-6333 fax
I am a Geochemist/Micro-Beam Analyst for the NMBGMR. I run the Electron Microprobe Lab. We have a Cameca SX100 with BSE, SE, and 4 WDS spectrometers. I have several active research projects that utilize the New Mexico Geochronology Research Laboratory.
My research interests include using geochemistry and geochronology of volcanic products in a wide range of geologic environments to understand the spatial and temporal relationships of evolving landscapes. Much of my research takes place in Antarctica characterizing volcanic ash trapped in ice. I am working on several projects in Ethiopia working on chronology relevant to the Hominid evolution in the Afar. Recently, I have been working in the Corudas Mountains in south-central New Mexico. An important suite of Eocene-Oligocene REE-bearing alkaline intrusions and the northern extent of the larger Trans-Pecos magmatic province.
(See Curriculum Vitae)
Education
Memberships
Teaching
I teach two classes that focus on providing undergraduate and graduate students with the necessary skills to operate microbeam instruments. Fall semesters I teach a course through the Material and Metallurgy Engineering Department (MTLS 483) on how to operate their Scanning Electron Microscopes (Hitachi S4800 and JEOL IT-700HR). This course focuses on how to prepare and analyze a wide range of samples on the SEM using multiple detectors. This includes SE, BSE, EDS, and EBSD analysis.
During the Spring semester, I teach a graduate-level (GEOC 575) Earth and Environmental Sciences Department course on the Theory and Practice of Electron Microprobe Analysis. This course focuses more on how to use microbeam techniques on geologic samples. This focuses more on BSE phase identification, X-Ray Mapping, and Qualitative and Quantitative WDS analysis.
Graduate Students
Current:
Mason Woodard, M.Sc. in Geology
Publications
(See Curriculum Vitae for more details)
Relevant Publications:
Dunbar, N.W., Iverson, N.A., Smellie, J.L., McIntosh, W.C., Zimmerer, M.J., Kyle, P.R. (2021). Active volcanoes of Marie Byrd Land. Volcanism in Antarctica: 200 Million Years of Subduction, Rifting and Continental Break-Up 55. Smellie, J. L., Panter, K.S., and Geyer, A.. Geological Society of London. DOI: 10.1144/M55-2019-29
Dunbar, N.W., Iverson, N.A., Van Eaton, E., Sigl, M. McConnell, J., Alloway, B., Wilson, C. 2017. New Zealand super-eruption provides time marker for Last Glacial Maximum in Antarctica. Scientific Reports, 7, 12238. doi: 10.1038/s41598-017-11758-0.
Iverson, N.A., Kalteyer, D., Dunbar, N.W., Kurbatov, A. and Yates, M., 2017a. Advancements and best practices for analysis and correlation of tephra and cryptotephra in ice. Quaternary Geochronology, 40: 45-55.
Iverson, N.A., Lieb-Lappen, R., Dunbar, N.W., Obbard, R., Kim, E., & Golden, E. 2017b. The first physical evidence of subglacial volcanism under the West Antarctic Ice Sheet. Scientific Reports, 7, 11457. doi.org/10.1038/s41598-017-11515-3
Recent Publications:
Schiller, C., Whitlock, C., Elder, K., Iverson, N., & Abbott, M. (2021). Erroneously old radiocarbon ages from terrestrial pollen concentrates in Yellowstone Lake, Wyoming, USA: Radiocarbon. Radiocarbon, 63(1), 321-342. doi:10.1017/RDC.2020.118
Hartman L., Kurbatov, A.V., Davies, S.M., Dunbar, N.W., Fudge, T.J., Iverson, N.A., Winski, D.A., Fegyveresi, J., and Yates, M.G. 2019. SPICE Ice Core Cryptotephra Geochemistry Study of 1450's Kuwae Interval. Scientific Reports, 9, 14437 https://doi.org/10.1038/s41598-019-50939-x
Lee, M. J., Kyle, P. R., Iverson, N. A., Lee, J. I., & Han, Y. 2019. Rittmann volcano, Antarctica as the source of a widespread 1252±2 CE tephra layer in Antarctica ice. Earth and Planetary Science Letters, 521, 169-176.
Oppenheimer, C., Khalidi, L., Gratuze, B., Iverson, N., Lane, C., Vidal, C., Sahle, Y., Blegen, N., Yohannes, E., Donovan, A. and Goitom, B., 2019. Risk and reward: explosive eruptions and obsidian lithic resource at Nabro volcano (Eritrea). Quaternary Science Reviews, 226, p.105995.
Schiller, M., Dickinson, W.W., Iverson, N.A. and Baker, J. A. 2019. A re-evaluation of the Hart Ash, an important stratigraphic marker: Wright Valley, Antarctica. Antarctic Science, 31(3),139-149 doi:10.1017/S0954102019000129
Winski, D. A., Fudge, T. J., Ferris, D. G., Osterberg, E. C., Fegyveresi, J. M., Cole-Dai, J., Thundercloud, Z., Cox, T. S., Kreutz, K. J., Ortman, N., Buizert, C., Epifanio, J., Brook, E. J., Beaudette, R., Severinghaus, J., Sowers, T., Steig, E. J., Kahle, E. C., Jones, T. R., Morris, V., Aydin, M., Nicewonger, M. R., Casey, K. A., Alley, R. B., Waddington, E. D., Iverson, N. A., Dunbar, N. W., Bay, R. C., Souney, J. M., Sigl, M., and McConnell, J. R. 2019. The SP19 chronology for the South Pole Ice Core – Part 1: volcanic matching and annual layer counting, Climate of the Past, 15, 1793–1808, https://doi.org/10.5194/cp-15-1793-2019, 2019.