View down Virgin Canyon towards the Sandia and Manzano mountains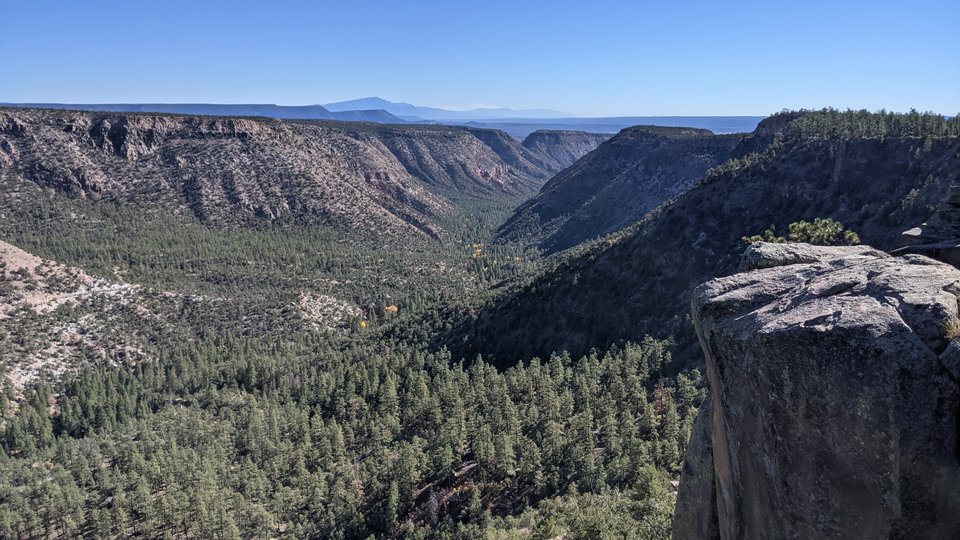 Image taken: 10/30/2021
by:
Adam Read
© 2021
Longitude: -106.750416756
Latitude: 35.7616142038
(WGS 84 or NAD 83)
About this image
About 1.6 million years ago, the first of two cataclysmic volcanic eruptions occured. Pumice and ash fell from the sky and covered the landscape with a thick hot blanket that became the lower member of the Bandelier Tuff. Some 400,000 years later, another similar eruption again covered the landscape with the 1.2 million year old upper member of the Bandelier Tuff. This is the cliff forming unit visible in the foreground and capping the mesas. Locally, the Bandelier Tuff buried Permian Yeso redbeds seen further down the canyon, and near the Gilman Tunnels.
For more information about the geology of the Jemez Mountains, see:
Dunbar, Nelia W., 2010, The Jemez Mountains and the Valles Caldera,in: The geology of northern New Mexico's parks, monuments, and public lands., Price, L. Greer, ed(s), pp. 127-134.
Goff, Fraser, 2010, Valles Caldera: New Mexico's supervolcano, New Mexico Earth Matters, v. 10, no. 1, pp. 1-4.
Goff, Fraser; Gardner, Jamie N.; Reneau, Steven L.; Kelley, Shari A.; Kempter, Kirt A.; Lawrence, John R., 2011, Geologic map of the Valles Caldera, Jemez Mountains, New Mexico, New Mexico Bureau Geology Mineral Resources, Geologic Map, v. 79, scale 1:50,000.
Image posted: 02-10-2022