Scenic Trips to the Geologic Past #15:
A Trip Through Space and Time—Las Cruces to Cloudcroft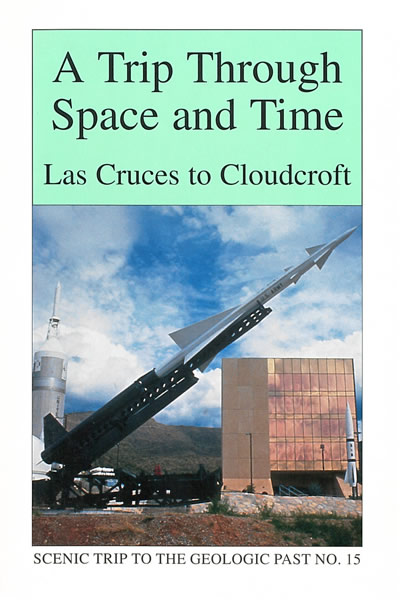 By R. E. Clemons, 1996, 194 pp., 3 tables, 196 figs., 6 sheets, glossary, index.
South-central New Mexico is characterized by extremes. During geologic history the area was covered by ocean water at least six times before becoming the arid region we see today. Prehist- oric hunter-gatherers criss- crossed the area for centuries before Spanish explorers arrived in the 1500s. The railroads brought "civilization" from the East in the late 1800s and with it local historical characters like Pat Garrett, Oliver Lee, and Albert Fall, some of whom live on in legend. In the 20th century, the area has become home for the White Sands Missile Range and Johnson Space Center. The first trip starts in Las Cruces, travels through San Augustin Pass and across the Tularosa Basin to Alamogordo, and continues on U.S.-82 to Cloudcroft; a reverse road log points out features not easily seen going east. The second trip explores the Lincoln National Forest from Cloudcroft to Timberon, while a third trip travels from Cloudcroft to La Luz for a back-road journey to Alamogordo. Aguirre Springs Recreation Area is visited in Trip 4. No visit to the Tularosa Basin would be complete without a trip to White Sands National Monument, seen in Trip 5. Oliver M. Lee Memorial State Park is visited for two trips-a round-trip road log from Alamogordo and a trail log for Dog Canyon trail, 4.2 mi one way with a 3,100 ft change in elevation. With elevations ranging from less that 4,000 ft in the Tularosa Basin to nearly 9,700 ft in the Sacramento Mountains, the seven road logs and one trail log give the traveler an exciting trip through space and time. Readers spending extended time in southern New Mexico will find Scenic Trip 3, Roswell-Ruidoso-Valley of Fires, Scenic Trip 10, South- western New Mexico, and Scenic Trip 16, Elephant Butte-eastern Black Range region-Journeys from desert lakes to mountain ghost towns, interesting companion volumes to Scenic Trip 15.