GM-19 — Geologic map of the Tierra Amarilla quadrangle, Rio Arriba County, New Mexico
By Edwin R. Landis and Carle H. Dane, 1967, lat 36°30' to 36°45', long 106°30' to 106°45', 15 pp., 7-color sheet, scale 1:62,500.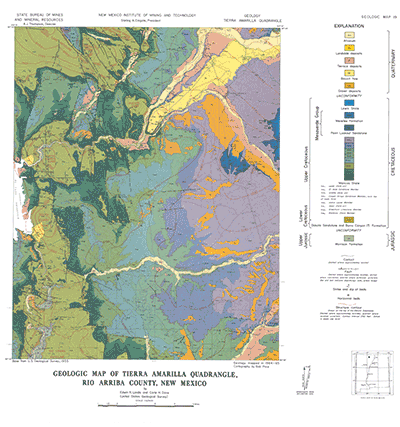 Rocks mapped are Morrison Formation; Burro Canyon and Dakota Sandstone; Mancos Shale with its Graneros, Greenhorn, Juana Lopez, Cooper Arroyo, El Vado, and other members; Mesaverde Group with its Point Lookout and Menefee Formations; Lewis Shale; and various Quaternary units. Most of the quadrangle is in the Chama syncline; domal or anticlinal structures are Horse Lake, Willow Creek, and Rio Chama anticlines, and Puente, North El Vado, South El Vado, and Lagunas domes.
The Tierra Amarilla quadrangle in central northern Rio Arriba County lies near the eastern edge of the Navajo section of the Colorado Plateau's physiographic province. Most of the quadrangle is within the Tierra Amarilla Land Grant, which has long been divided into smaller parcels with a multiplicity of ownership. The town of Tierra Amarilla, county seat of Rio Arriba County, and the towns of Park View and Ensendada, all in the northeastern quarter of the quadrangle, are population centers of the irrigated farmlands along the Rio Chama, Rio Brazos, and Rito de Tierra Amarilla. El Vado is the center of a resort and recreation area around El Vado Reservoir. The remainder of the area is mostly sparsely populated grazing land.
Altitudes within the quadrangle range from less than 6,000 feet where the Rio Chama leaves the quadrangle in the southwestern corner to more than 8,600 feet near the eastern edge about 3 miles southeast of Tierra Amarilla. Local relief seldom exceeds 400 feet, except where the Rio Chama has cut throughout the resistant Dakota Sandstone to depths of as much as 800 feet and where the Dakota-armored domal and anticlinal uplifts in the western part of the quadrangle rise as much as 1,000 feet above the surrounding area.

Also available as a free download.