GM-20 — Reconnaissance Geologic Map and Sections of El Rito Seven and One Half Minute Quadrangle, New Mexico
By E.C. Bingler, P. Hillard, and K.H. Mallon, 1968, scale 1:24,000.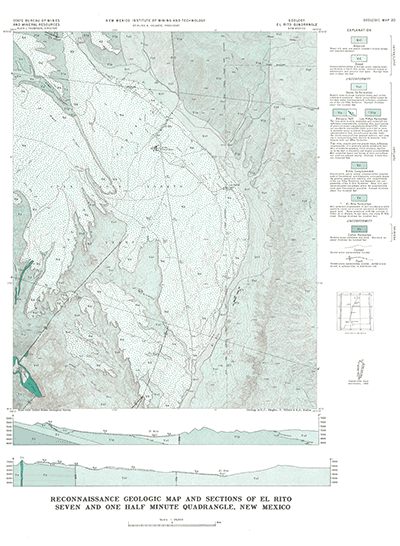 The El Rito 7.5-minute quadrangle is just south of the Valle Grande Peak quadrangle (GM-21, also published in 1968 by the same authors) and contains the town of El Rito. This quadrangle lies on the southwestern flank of the Ortega Mountians. The rocks exposed in the map area are principally Tertiary conglomerates, Santa Fe Group sediments, and Quaternary gravels.
Note: This quadrangle was also mapped as OF-GM-166 in 2008.

Also available as a free download.