GM-29 — Geologic map and sections of Bishop Cap–Organ Mountains area, New Mexico
By William R. Seager, 1973, lat 32°15' to 35', long 106°37'30", text, scale 1:24,000.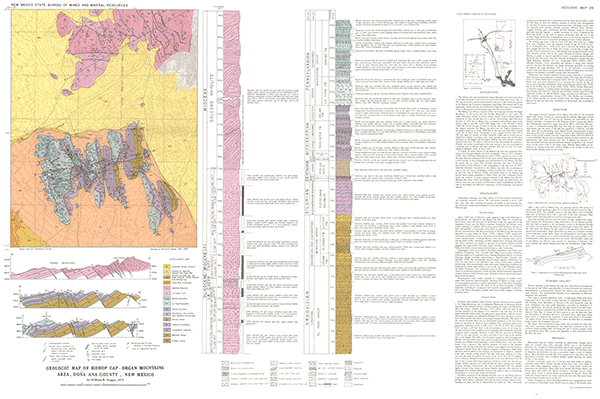 The Bishop Cap and southwestern Organ Mountain area is located about 15 air miles southeast of Las Cruces, in south-central Doña Ana County. The map covers all of the northwest quarter and part of the southwest quarter of the Bishop Cap 7½ minute topographic quadrangle. The eastern half of the quadrangle, which includes the southeastern Organ Mountains, is occupied by the Fort Bliss gunnery and bombing range, therefore inaccessible.
The Bishop Cap hills are situated within the broad gap between the Organ Mountains to the north, and the Franklin Mountains to the south. The Organ Mountains consist of several closely spaced north-trending hogbacks connected in their central parts by a narrow east-trending ridge. Maximum elevation is 5,419 ft at Bishop Cap, a prominent miter-shaped peak on the western edge of the hills. Local relief ranges from a few hundred to about 1,000 feet. A narrow gap, formed on alluvial fans sloping southward from the Organs, separates the Bishop Cap hills from the Organs. Elevations in the Organs range up to about 6,800 ft in the map area; local relief exceeds 1,300 ft in many areas. Topography is very rugged; vertical walls 500–700 ft high are present on some mountain slopes and in Long Canyon. Vegetation consists of juniper, cacti, sotol, grasses, yucca, and, in the lower elevations of the Organs and throughout Bishop Cap hills, creosote, ocotillo, mesquite and cacti. The region is unpopulated and used mainly for recreation. Fluorite was mined occasionally in the past. Access to the area is provided by a passable jeep or pickup trail that connects with the I-10 and I-25 interchange at Mesquite, south of Las Cruces.

Also available as a free download.