GM-38—Precambrian rocks of Ladron Mountains, Socorro County, New Mexico
By K. C. Condie, 1976, lat approx. 34°20'00" to 34°28'00", long approx. 107°01'30" to 107°06'45", text, scale 1:24,000.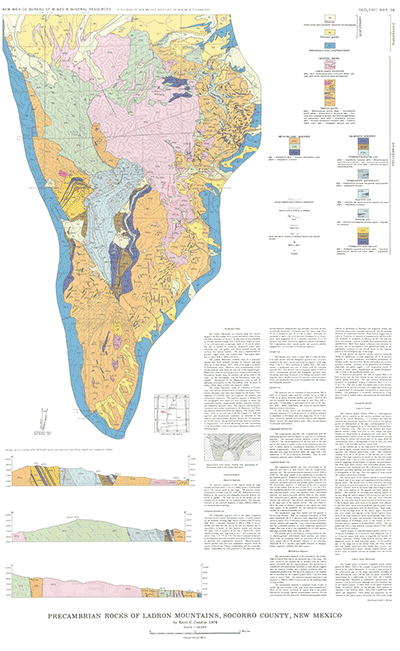 The Ladron Mountains are located along the western margin of the Rio Grande rift in central New Mexico about 50 km (30 miles) northwest of Socorro. In plan view the area resembles an inverted isosceles triangle with a north-south length of about 17 km (10miles) and an east-west width of 10 km (6 miles). The area is reached by numerous unimproved roads, many branching from the graded road which extends around the northern and western borders. The area is characterized by generally rugged terrain with variable relief. The highest elevation is Ladron Peak at 3060 m (9176 ft).
The Ladron Mountains comprise most of a westward-dipping fault block probably bounded by Cenozoic high-angle faults on all sides (Kelley, 1952). Most of the range is composed of Precambrian rocks. Paleozoic rocks unconformably overlie the Precambrian rocks along the west side of the mapped region. Phanerozoic rocks of varying ages occur in fault contact with the Precambrian terrane along the southern and eastern sides of the range. In this investigation, only the Precambrian rocks were mapped. Descriptions of the Phanerozoic rocks as well as additional information of the Precambrian rocks are given in Noble (1950), Black (1964), and Haederle (1966).

Also available as a free download.