GM-58—Geology of Gym Peak quadrangle, Luna County, New Mexico
By R. E. Clemons and G. A. Brown, 1983, lat 32°00' to 32°07'30", long 107°30' to 107°37'30", 1 sheet with text, scale 1:24,000.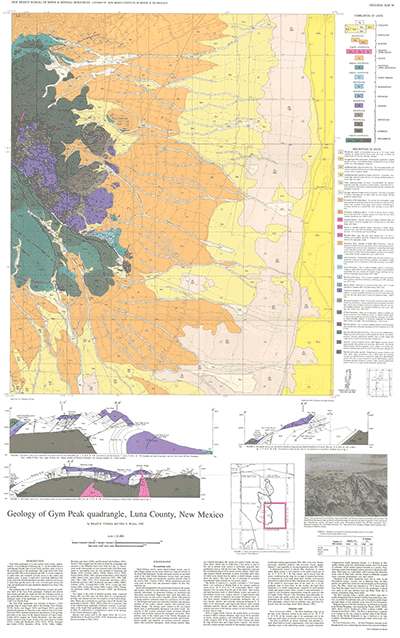 This map, Part III in a five-part series on the Florida Mountains, describes the geology of the Gym Peak 7½-min quadrangle. Part I is the Florida Gap 7½-min quadrangle (GM-52); Part II is the Capitol Dome quadrangle (GM 56); Part IV is the South Peak 7½-min quadrangle (GM-59); Part V is a comprehensive report on the Florida Mountains, which is Memoir 43.
Gym Peak quadrangle is in east-central Luna County, approximately 15-mi southeast of Deming. An all-weather travel road through Florida Gap to Lobo Draw provides ready access to the northwest part of the quadrangle. Dirt roads from Lobo Draw and from NM-549 (to the northeast) and NM-11 (to the southwest) to cattle tanks and windmills provide access to the eastern and southern parts. A steep, 4-wheel-drive road from Mahoney Park to the crest of the Florida Mountains provides relatively easy access to Gym Peak and the area to the west. A locked gate crosses this road, and permission for entry should be obtained from Gene Cook in Deming.
The southeast part of the Florida Mountains occupies the northwest third of the Gym Peak quadrangle. Pediment and alluvial fans extend eastward and southward into the Columbus section of the eastern Mimbres Basin. Elevations range from 4,010 ft, in the southeast corner of the quadrangle, to 7,166 ft on Gym Peak and 7,448 ft on Florida Peak.

Also available as a free download.