GM-61—Geology and coal resources of Atarque Lake 1:50,000 quadrangle, New Mexico (nw quadrant of Fence Lake 1:100, 000 sheet
By O. J. Anderson, 1987, lat 34°45'00" to 35°00', long 108°30'00" to 109°00', 2 sheets, scale 1:50,000.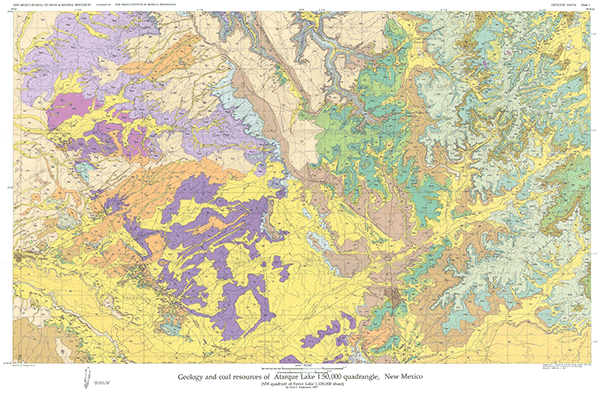 Detailed mapping of eight 7½-min quadrangles provided the primary data for this compilation of the geology in the northwest quadrant of the Fence Lake 1:100,000 metric-scale map. The Atarque Lake 1:50,000 quadrangle is located in western Cibola and southern McKinley Counties, 40 mi south of Gallup and 45 mi north of Quemado. Geologically, the Atarque Lake quadrangle lies in the southwestern part of the Zuni Basin near the southeastern margin of the Colorado Plateau physiographic province. Canyons and monoclines offer excellent outcrops of the entire Jurassic and Cretaceous section. A detailed discussion of the stratigraphy and coal resources, 30 map-unit descriptions, cross section, and composite stratigraphic column accompany the geologic map. This is a companion to GM 62.

Also available as a free download.