Bulletin 153—Facies, diagenesis, and mineralogy of the Jurassic Todilto Limestone Member, Grants Uranium District, New Mexico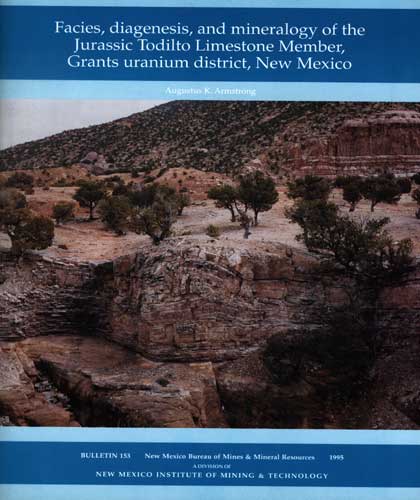 By A. K. Armstrong, 1995, 41 pp., 1 table, 40 figs.
This is a bulletin on the study of the sedimentology, facies, and diagenesis of the Todilto Member of the Wanakah Formation in the Grants uranium district. Wanakah Formation is the U.S. Geological Survey nomenclature for the upper San Rafael Group in northwestern New Mexico. The Todilto forms the basal member of the Wanakah. The primary objective of the research was to determine the depositional environments of limestones in the Todilto Member. The separation of marine, salina, and lacustrine depositional environments in Proterozoic, Paleozoic, and Mesozoic rocks is difficult. Criteria that may be used to separate the two include (1) packaging of respective facies, (2) suites of evaporite minerals or psuedomorphs contained in sedimentary assemblages, (3) organic remains, and (4) petrographic and geochemical evidence.
Studies of lacustrine carbonate facies, modern saline lacustrine depositional environments, and the marine tidal deposits of Andros Island and Holocene and Jurassic evaporites of the Arabian Gulf provide us with much of the basic knowledge for deciphering the Todilto sedimentary structures. In recent years the literature on modern and ancient salinas has greatly increased our ability to interpret these ancient deposits.
The Todilto Limestone Member, the basal member of the Wanakah Formation of the Grants uranium district, is 1–30 ft thick and records the change in depositional environment from a restricted marine embayment with an ephemeral connection to the Curtis-Summerville Sea to a completely enclosed salina/playa and shrinking body of gypsiferous water. The salina measured 300 mi from east to west and 250 mi from north to south, and was fringed by an extensive belt of limestone-gypsum sediments. The arenaceous lime-mudstone sediments record salina/playa deposition in alternating brackish to hypersaline waters and extended periods of exposure to desiccation. Dolomite is absent in the study area. The calcite-lime mudstones were derived primarily from an aragonite-mud precursor and were subjected to extensive neomorphism. The aragonite-to-calcite diagenetic history is evident in the poorly preserved ooids.
The salina waters supported a small invertebrate fauna and flora, and there is no evidence of an infauna in the lime mudstone. Rare bioclasts of calcareous algae, dasyclads of the tribe Salpingoporellae, are found in the Todilto sediments. Ostracodes were abundant in the salina's ephemeral gypsiferous waters. The salinity of the waters was influenced by seasonal influx from streams, rainfall, periods of drought, and intermittent connections to the Curtis-Summerville Sea. The overlying 0–110 ft thick gypsum unit found to the east of the study area was deposited in the center of the basin during the final salina phase. Playa-type alkaline evaporites, such as trona and shortite, are not known from the Todilto Limestone Member.

Also available as a free download.
Download
File Name
Size
Last Modified
B153.pdf
7.37

MB

01/15/2021 01:36:18 PM