Bulletin-161 — Geology and Hydrology of Groundwater-Fed Springs and Wetlands at La Cienega, Santa Fe County, New Mexico
By Peggy S. Johnson, Daniel J. Koning, Stacy S. Timmons, and Brigitte Felix, 2016.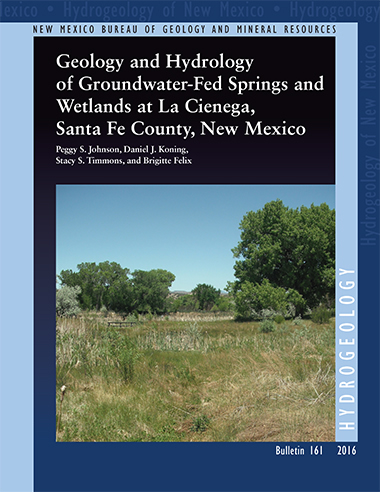 La Cienega's springs and wetlands are important hydrologic, ecologic and cultural resources, and provide many beneficial water-related functions. The wetlands discharge groundwater from regional and local aquifers that provide the sole water source for the southern Santa Fe region. We investigate the wetland system by examining the hydrologic interactions manifested in the wetland water balance. This investigation addresses all aspects of the wetland system, including:
The links between geology, groundwater flow, and wetland location
Groundwater conditions surrounding the wetlands
Chemical, isotopic and age indicators of water sources for the wetlands
The effects of climate variability on streamflow and groundwater levels
Wetland evapotranspiration
Groundwater depletion and water-level declines
The various data are integrated into a physical, conceptual model of wetland hydrogeology, which can support and enhance wetland conservation plans. To be successful in their objectives, hydrologic models and wetland management plans must incorporate the hydrogeologic features that create and maintain the wetlands.
This publication won the AASG/GSA John C. Frye Memorial Environmental Geology Award for 2016.
Supplemental Data available from our Data Repository:
https://geoinfo.nmt.edu/repository/index.cfml?rid=20160001
ISBN: 978-1-883905-33-0

CD or DVD-ROM format

Also available as a free download.