Circular 204—Index to proceedings of the forum on the geology of industrial minerals—26th (1990) through the 31st (1995)
Compiled by G. S. Austin and G. K. Hoffman, 1996, 20 pp.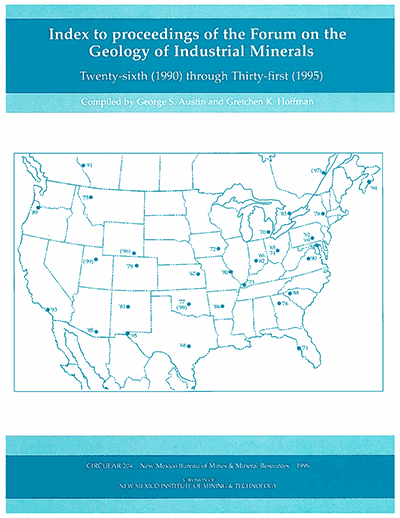 The proceedings of the last six meetings are indexed by subject and by author(s). Also included are the tables of contents for the six proceeding volumes, a locator map for all past and future meetings through 1999, and a list of the sponsoring agencies for each meeting. Since the forum on Geology of Industrial Minerals was founded in 1965, it has met on an annual basis in 31 U.S. states and Canadian provinces. In 1995, the forum has accepted bids to hold meetings in three additional states and one province. Several other organizations have expressed interest in holding forums, but they have yet to be accepted by the Business Meeting-the forum's ultimate authority. A Steering Committee, composed of the current meeting chairperson and three elected individuals representing three divisions of the profession (government, academia, and industry), serves as the function authority between forums. The elected members of the Steering Committee serve staggered three-year terms. The immediately preceding and succeeding local chairs commonly attend a breakfast meeting of the Steering Committee during the forum week, but have no official vote.

Also available as a free download.